2013-06-09 Olympic Stadium, Berlin, Germany
From DM Live - the Depeche Mode live encyclopedia for the masses
Jump to navigation
Jump to search
Notes
Anton Corbijn shoot footage of 'Should Be Higher' here for its music video. Daniel Miller was in attendance. According to Billboard, the attendance was 66.388 people and the gross sale was $5,113,262.
Trentemøller was the support act. Actor Christoph Waltz was in attendance.
Video
Set list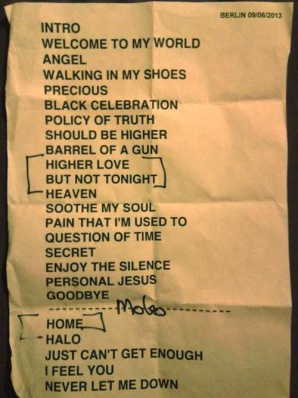 Intro
Higher Love (*)
But Not Tonight (*)
Home (*)
Set list info obtained from the Home forum.
Ticket scans