2013-11-09 The O2, Dublin, Ireland
From DM Live - the Depeche Mode live encyclopedia for the masses
Jump to navigation
Jump to search
Notes
At the start of 'Just Can't Get Enough', Dave quips towards his colleagues "This is not 'Boys Say Go'."
According to Billboard, the attendance was 13,005 people and the gross sale was $1,248,337.
The Jezabels were the support act.
Set list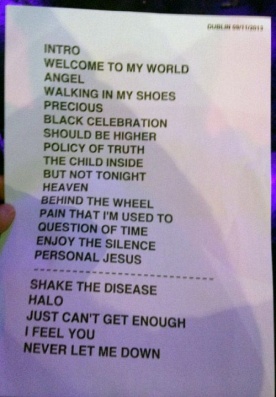 Intro
The Child Inside (*)
But Not Tonight (*)
Set list info obtained from the Home forum.