2015-11-02 La Cigale, Paris, France
From DM Live - the Depeche Mode live encyclopedia for the masses
Jump to navigation
Jump to search
Notes
Dave Gahan talked about this concert afterwards in a few radio interviews. To Radio Deejay, he said "[...] Two nights ago at La Cigale in Paris, in the Pigalle, which is this little theatre with a lot of history, I think it was for me, and for the other guys - we talked afterwards - a very, very special performance, and I think I was maybe at my best. And at the end of the show, after we finished the Soulsavers songs, we did a couple of songs people know, and we did a version of Condemnation which went on for ten minutes, which I think was the best I've ever, ever sung that song. I felt so deep inside my soul. It was cool." To Radio Capital, he said "We did a show in Paris a couple of nights ago: I honestly never felt that kind of connected to something. And it's the music, and the musicians [causing that]."
In March 2017, Dave brought up this concert again in an interview for HUMO (translated from Dutch): "With the last Soulsavers record, we played a few small shows. One of them was in Paris, in La Cigale, near Place Pigalle. There were nine musicians on stage: some of them I knew well, others not so much - like Duke Garwood, who was playing guitar. At one moment - I forgot during which song - we all stood there, staring at each other. Simply being blissfully happy. When we walked off the stage, no one said anything. We knew we had experienced something that... which... pff, I can't even explain it. Very, very rarely, a band will feel completely connected to one another, and then you'll be completely into the music. In these almost 40 years that I've been singing, I must have experienced it maybe ten times. It's a power that's bigger than anything I've ever felt. Some people call it God, I guess."
Interviews done with Dave while in Paris:
Video
Set list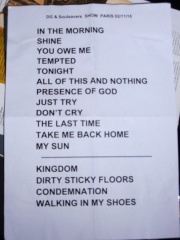 Sources
Source 1 is a good audience recording taped using an iPhone 6S Plus by Ojacques and Morphine1977.