1981-06-27 Crocs, Rayleigh, Essex, England, UK/Source 1
From DM Live - the Depeche Mode live encyclopedia for the masses
Jump to navigation
Jump to search
Notes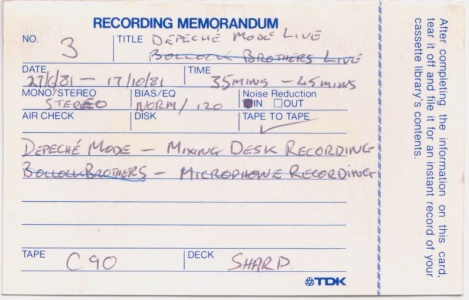 A superb sounding soundboard recording and a very enjoyable listen. Other than rather frequent slight dropouts, likely due to the age of the tape, and less frequent lengthier drops in volume such as at the beginning of "Television Set", the recording is more or less flawless. This seems to be a mono downmix. At the time of writing, it is unknown what the master was recorded on (cassette, reel?) and who recorded it. If anybody knows any details at all about who recorded the master tape, please share, as it would be fantastic to track down the master tape and get it archived.
This wonderful soundboard recording was shared on May 31, 2022, in memoriam of Depeche Mode co-founder Andrew "Fletch" Fletcher, who passed away much too young on May 26, 2022. Rest in peace, Fletch.
This first-generation cassette was played back on a top-of-the-line Nakamichi cassette deck which automatically achieves optimal playback azimuth. This tape copy was also recorded using Dolby "B", so Dolby "B" was engaged during playback for this capture. The result is a high-fidelity and nearly hiss-free recording.
Bass is slightly distorted for the first minute or so of Television Set while levels were still being adjusted at the mixing desk; the distortion clears up about a third of the way through the song. Tora! Tora! Tora! was restarted due to technical difficulties. Tora! Tora! Tora! was also slightly edited to correct a flaw with the drumbeats during the intro. The original remains unmodified in a subfolder if you wish to undo this edit.
Television Set is an early live-only song played between 1980 and 1982. More details are here: Television Set
The Price Of Love is also an early live-only song played between 1980 and 1981 and is a cover of the song by "The Everly Brothers". More details are here: The Price Of Love
Prior available versions of this recording include an eBay seller's transfer available since 2006, which seemed to have significant digital noise reduction and heavy equalization applied, resulting in an unenjoyable listen. The eBay transfer is most likely the source audio for various vinyl bootleg pressings of this recording. The other source, which became widely available in 2017, is an MP3 320kbps version of CPR's transfer of this same tape performed on an entry-level Sony cassette deck and without further post-processing. That transfer is certainly better sounding than the eBay seller's transfer, but it is not as high-fidelity as this version and suffers from incorrect playback speed, more hiss, noticeable ground hum, and noticeable wow & flutter.
The remaining time following the Crocs recording on the A-side of the tape contains the album versions of "Shout", "Just Can't Get Enough", and "New Life" from the "Speak & Spell" album. The B-side of the tape may have originally contained an audience recording of the band "The Bollock Brothers" from 1981-10-17, but now the tape only contains a non-Depeche Mode studio album on the B-side.
Immense thanks to CPR for generously lending the tape to transfer and for allowing this great recording to be shared widely to help celebrate Fletch's life and achievements.
Listen
You can listen to this entire recording below.
Track list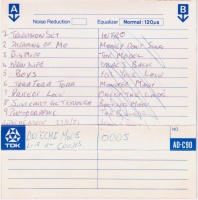 Lineage
Complete soundboard recording
Lineage: soundboard -> master tape (unknown type) -> first generation TDK AD-90 cassette tape, 1979 - 1981 tape stock, duplicated on a Sharp cassette deck with Dolby "B" engaged -> Nakamichi Dragon cassette deck, serviced and upgraded with MAX4066 CMOS chips, Dolby "B" engaged -> Blue Jeans Cable LC-1 8-foot RCA cables -> Creative Sound Blaster ZxR (RCA Line In) -> Adobe Audition CC 2015 (WASAPI 32-bit / 88.2 kHz) -> in Audacity 3.1.3: stereo channels phase aligned, channels independently normalized to -0.1dB and any DC bias removed, further normalization tweaks, patched Tora! Tora! Tora! intro, track splits -> WAV (24/88.2) tracks -> FLAC 16-bit 44.1khz using FLAC 1.3.4 64-bit (level 8 compression) and foobar2000 v1.6.11's Resampler (RetroArch) at "Highest" quality
Taper: unknown
Generation: first
Transfer: DMLiveWiki on November 14, 2015
Cassette tape photos, tape inlay scans, and auCDtectTaskManager log included
Gallery
Download