1981-07-25 Zuiderpark, The Hague, The Netherlands/Source 1
From DM Live - the Depeche Mode live encyclopedia for the masses
Jump to navigation
Jump to search
Notes
A good sounding early recording. This is the best sounding copy I've heard and is probably a very low-generation tape copy. What's Your Name? is missing the last few seconds of the song, and there are small dropouts near the beginnings of the concert intro, Television Set, and Photographic. Photographic's dropout sounds to me like tape curl, but I verified my tape is undamaged at that section. A worse-sounding copy of this recording is unaffected and I patched the track using it; an unpatched version of track is available in the folder "Unpatched Photographic". Tora! Tora! Tora! also had a small dropout a bit later in the song and I corrected that seamlessly. I ran automatic click removal on the last three tracks since they had some rather frequent light clicks for some reason. The entire recording was slowed down to approximately match the speed of the 1981-06-11 BBC Studio Session.
This is the earliest circulating recording of the "metallic" concert intro that bears a resemblance to a slowed down version of "Shout". It's missing about 1 minute and 25 seconds from the beginning. You can find a complete, very good sounding recording of this intro at 1981-08-02 Jenkinsons, Brighton, England, UK/Source 1.
Many thanks to Markus for supplying this tape.
Listen
You can listen to this entire recording below.
Track list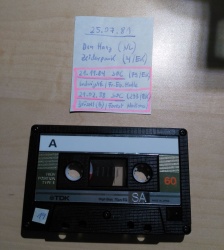 Lineage
Incomplete audience recording
unknown taper and equipment -> low generation TDK SA60 high position cassette, 1985-1987 European stock -> Nakamichi Dragon cassette deck, serviced and upgraded (details) -> Blue Jeans Cable LC-1 8-foot RCA cable -> Creative Sound Blaster ZxR (RCA Line In) -> Adobe Audition CC 2015 (32-bit / 88.2 khz) -> slowed down 5.0%, small dropout at beginning of Tora! Tora! Tora! fixed, automatic click removal (heavy reduction) on last three tracks, normalized to -0.1dB and any DC bias removed -> WAV (32/88.2) -> tracked using Audacity 2.1.2 -> WAV (32/88.2) tracks -> FLAC 16-bit 44.1khz using FLAC 1.3.1 64-bit (level 8 compression) and foobar2000 v1.3.10 with its Resampler (SoX) component v0.8.3 (best quality), dithering enabled
Transfer: DMLiveWiki
Cassette tape photo and auCDtectTaskManager log included
Download