1983-10-08 Hammersmith Odeon, London, England, UK/Source 1
From DM Live - the Depeche Mode live encyclopedia for the masses
Jump to navigation
Jump to search
Notes
A superb recording. Most of the recording is sourced from a promotional pre-FM BBC CD, with the remainder of the concert completed using an FM master tape of an original broadcast from October 15, 1983. "And Then..." and "Boys Say Go!" were never broadcast and do not appear on any promotional release, and as such they are missing from this recording.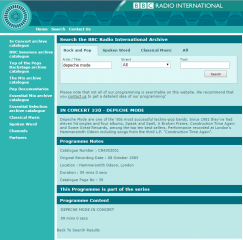 REVISION A Notes: The date of this recording has been corrected to October 8, 1983, based on the BBC Radio International catalog search page detailing the "In Concert 320" BBC pre-FM vinyl (see right). CD & pre-FM LP artwork photos / scans provided by Dennis Burmeister have been added as well; while the pre-FM LP was not used, images are included to show that the recording date was not provided on any of the original artwork of that item. A screenshot showing the BBC catalog page with the date is also included. No changes to the audio have been made.
Listen
You can listen to this entire recording below.
Track list
Sources
Tracks 01 & 14, and endings of 03, 08, 15: original FM broadcast master (October 15, 1983), provided by duke2004 on www.dimeadozen.org
Tracks 02 to 13, 15: original promotional BBC silver CD provided by Peter G
Download