1983-10-08 Hammersmith Odeon, London, England, UK
From DM Live - the Depeche Mode live encyclopedia for the masses
Jump to navigation
Jump to search
Notes
Depeche Mode's third out of three nights at the Hammersmith Odeon during their 1983-1984 Construction Time Again Tour. Most of this concert was broadcast on BBC Radio 1 on 1983-11-26 (see BBC website here and here), and a stellar recording incorporating both pre-broadcast and FM sources is below. It misses And Then... and Boys Say Go!, unfortunately. According to the setlist sheet below, "Work Hard" was slated to be performed, but there is no confirmation whether it was played during any of the three nights at Hammersmith during this tour.
The available audio recording from this date is confirmed to be from this date and not 1983-10-06 as was commonly thought for a very long time. The BBC Radio International catalog search page confirmed the date of the In Concert 320 pre-FM vinyl as being from October 8, 1983; see below for a screenshot.
Matt Fretton was the support act.
Photos
All scans and photos credit to Dennis Burmeister. Only the pre-FM CD source and an FM broadcast master tape source were used for the most complete, best sounding version of this concert available below; the scans of the LP sleeve and labels are provided for completion sake. Neither the original pressing LP cue sheets nor the CD inlay mention the exact date of this recording.
Set list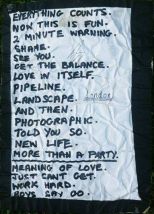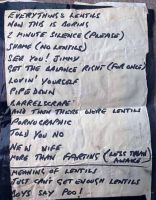 Sources
Source 1 is the most complete version available comprised of pre-FM and FM sources. Sound is superb.
Ticket