1984-03-06 Orfeo Music Hall, Milan, Italy/Source 1
From DM Live - the Depeche Mode live encyclopedia for the masses
Jump to navigation
Jump to search
Notes
A very good sounding audience recording, one of the best from the "Construction Time Again" tour in my opinion. There's some slight distortion due to tape saturation at times, and some slight hiss, but less than previous iterations of this recording. The recording starts out a little muffled, but by the middle of Now, This Is Fun, it becomes significantly clearer. The last couple seconds of The Landscape Is Changing and the first few seconds of And Then... are missing due to tape flip, but otherwise this is a complete recording.
Revision A notes: The prior transfer of this tape performed on the Nakamichi Cassette Deck One was fraught with speed fluctuations - listen to the beginning of Two Minute Warning for instance, and the issue is obvious. DM Live no longer has that particular deck.
This first-generation copy is *the* lowest generation copy in existence - the master cassette was taped over after this first-generation copy was made. That is evident because there is duplicated music at the beginning of Photographic at the start of side B on this cassette; if this were a true master, that would be not be possible. Furthermore, the real tape flip occurs between The Landscape Is Changing and And Then... since there is missing music. The eBay seller who I purchased this cassette from also spoke with Fabio B. on the phone, who confirmed that the master was taped over. Thus, this first-generation copy is now the "original", and the cassette is also labelled as such.
This recording has been infamously bootlegged in the past on some silver CD releases, the most common being "Hysterika" and "On The Crest Of A Wave", both of which have speed issues and sound worse than this direct transfer of the original cassette. I have also read that this audience recording has been broadcast on the independent Italian FM radio station "Radio Popolare".
I purchased this cassette on eBay along with two other Fabio B. DM masters (1984-11-28 Milan and 1987-10-29 Turin). Thanks to Vince for his assistance with securing these tapes.
Listen
You can listen to this entire recording below.
Track list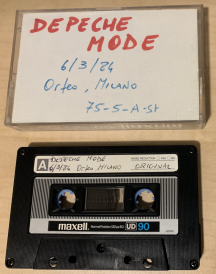 Lineage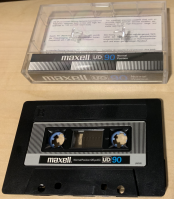 Incomplete audience recording
unknown recording equipment -> unknown master cassette -> first generation Maxell UD90 type I cassette tape -> Nakamichi MR-1 professional discrete head cassette deck (playback azimuth adjusted) -> Mogami 2534 XLR to TRS cables -> Focusrite Scarlett 2i2 3rd gen USB audio interface -> WAV (32/88.2) -> Audacity 3.0.0 (WASAPI audio capture at 32-bit / 88.2kHz, normalization to -0.1dB and any DC offset removed, removed duplicate audio from the beginning of "Photographic") -> WAV (32/88.2) -> downsampled to FLAC level 8 (16/44) using foobar2000 v1.6.4, FLAC 1.3.3 64-bit, and foobar2000's Resampler (SoX) component v0.8.3 (best quality), dithering enabled
Taper: Fabio B.
Generation: first
Cassette photos and auCDtectTaskManager log included
Download