1990-07-25 Salt Palace, Salt Lake City, UT, USA
From DM Live - the Depeche Mode live encyclopedia for the masses
Jump to navigation
Jump to search
Notes
A gig in Utah was originally scheduled for at ParkWest in Park City, Utah on July 24th. Due to a heavy thunderstorm, it was moved to the Salt Palace Arena in downtown Salt Lake City the following day. The remainder of the ticket stub from the prior day was submitted for entrance.
Here is a concert review by The Salt Lake Tribune from Friday, July 27, 1990, courtesy of Amanda E.: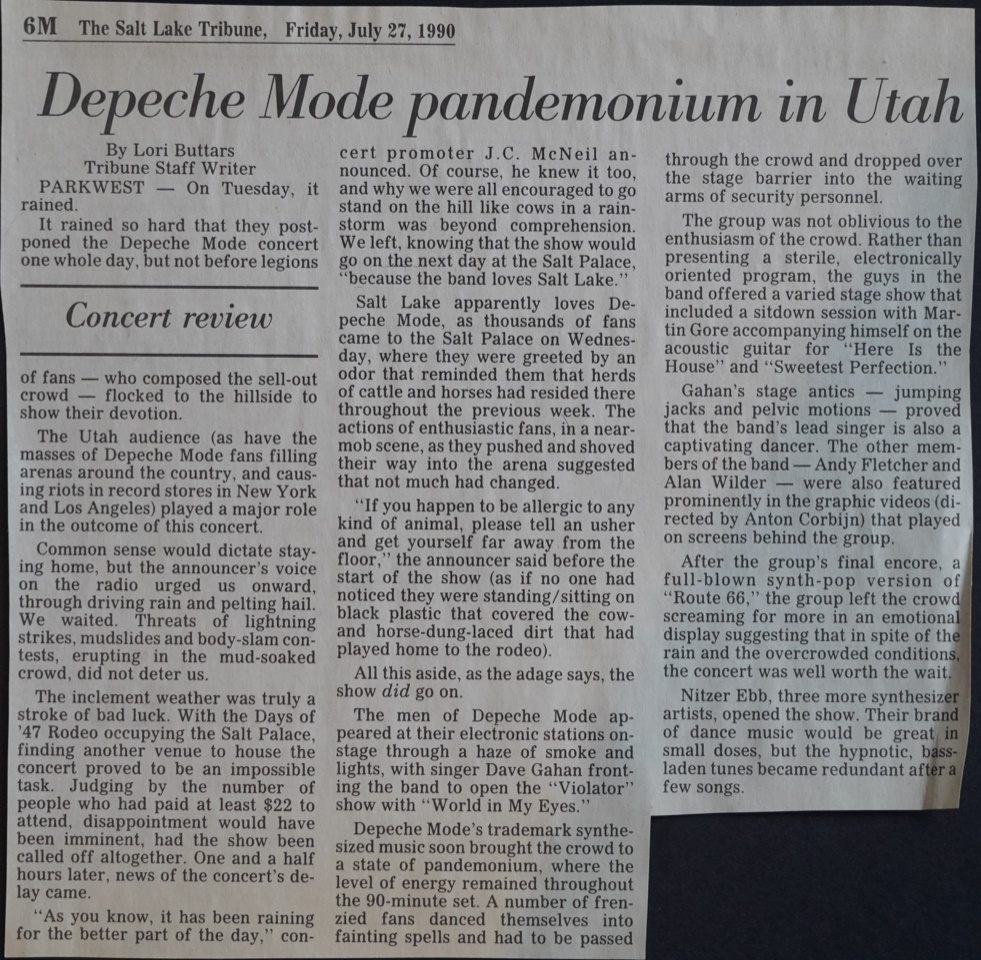 JD Fanger said later in 1990 in BONG magazine issue 11:
"In Salt Lake City, an open air show had to be cancelled, because it had poured with rain all day, and the stage covering was inadequate. We were lucky enough to be able to re-schedule the show indoors on the following day, and, of course, the weather was wonderful."
Alan Wilder said to The Salt Lake Tribune in 1993:
"[The cancellation] tended to enhance the whole show, because there was such a disappointment and then a relief from the fans when they found out we were going to play the next day. In the long run, it worked in our favour."
Alan explained further in the Violator remaster documentary in 2006:
"I think the weather [in Salt Lake City] was terrible when we arrived and we couldn't play the show. It was an outdoor venue, there was a thunderstorm or something. It was too dangerous to go on. But we managed to - or the agent, someone managed to reschedule to an indoor arena the next day. I think it was called The Cow shed or something like that, it was a real makeshift gig. And there being such a disappointment the previous night that all the people that then came the next night were so up for it, it was one of the best shows we ever played."
As newspaper The Park Record reported on July 19th, the planned concert on July 24th was sold out.
DM shot the extra footage for the Strange Too video in this city the day after the concert.
Set list
Ticket