2009-10-10 Parque Simon Bolivar, Bogota, Colombia
From DM Live - the Depeche Mode live encyclopedia for the masses
Jump to navigation
Jump to search
Notes
This concert was added to the tour dates list on April 29th 2009.
Here is the diary entry for Depeche Mode's official tour blog:
Colombia's Passion. When I first heard that term, I thought it was a reference to the seemingly enthusiastic hearts of the country's people. Turns out, the government of Colombia has recently adopted a planned strategy to revitalize its image abroad and to help bring tourism to its historic land and foreign investment to its growing infrastructure. As such, a plethora of major music artists have chosen Colombia as a stop on their touring routes, including Depeche Mode.

Our gig at the Parque Simon Bolivar in mid-town Bogota was one of our strongest and most vivacious yet! The crowd had been faithfully anticipating the Mode's arrival to Colombia for years and for that night, everyone finally let out a collective breath. With the crowd chanting, "Fletcher, Martin, David," the pulsating tone was set for the rest of the magical night.

Check out the photos for some pre-gig glimpses and stage shots.

See you in Lima!

author: MM
Angele Phase was the support act. Said by Angele Phase:
"Angele Phase is the name I gave to a music band project that went on from 2005 through to 2010. (...) The band toured to promote that album called Magnetophonband and closed their tour with a special gig after Martin Gore chose us to warm up for Depeche Mode - Tour of the Universe show in Colombia."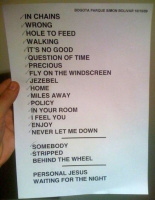 Set list
Set list info obtained from the Home forum.