2023-05-16 Ziggo Dome, Amsterdam, The Netherlands
From DM Live - the Depeche Mode live encyclopedia for the masses
Jump to navigation
Jump to search
Notes
This concert was announced on October 4, 2022 via depechemode.com's tour page.
Someone named Gábor was holding a "Today is my 50th birthday" sign, to which Dave and the others sang "Happy Birthday". You can find a good video of it here.
Cold Cave was the support act. Anton Corbijn was in attendance and taking photos.
Videos
YouTube user 8ungOne uploaded an audience-shot video of Just Can't Get Enough which uses an in-ear monitor audio recording to YouTube:
Set list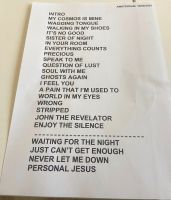 (*) indicates lead vocals by Martin Gore
Set list info obtained from the Home forum.
Sources
Source 1 is oni's very good audience recording.
Ticket