2023-05-26 Leipziger Festwiese, Leipzig, Germany
From DM Live - the Depeche Mode live encyclopedia for the masses
Jump to navigation
Jump to search
Notes
This concert was announced on October 4, 2022 via depechemode.com's tour page.
Cold Cave was the support act.
After Waiting For The Night, Dave gave a short remembrance speech about Andy Fletcher's passing one year ago on this date. Here is a transcription of Dave's speech:
We just want to acknowledge that tonight is one year since we lost our friend Andrew Fletcher. And we know that he would love this and would love to have been here with you all tonight. So let's all just remember him in our hearts please. Thank you.
Audience recording of Dave's speech, courtesy of Ronny:
Set list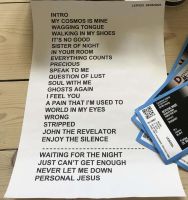 (*) indicates lead vocals by Martin Gore
Set list info courtesy of CPR.
Sources
Ticket