1980-06-14 Nicholas School, Basildon, England, UK
From DM Live - the Depeche Mode live encyclopedia for the masses
Jump to navigation
Jump to search
Notes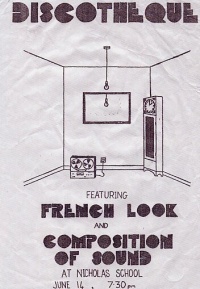 Composition Of Sound played at this concert, with French Look supporting. This was the first concert with Dave Gahan on vocals. This concert did not take place on May 31st, 1980, as many other sources cite (including the official depechemode.com archives site); the concert took place on June 14, 1980.
Note that any recording you may find from this date and venue (which may also be labeled as 1980-05-31) is a fake recording comprised of tracks from other various early live recordings. Attendee Mark Bargrove asserts in Jonathan Miller's DM biography that they at least played Ice Machine, and Anne Swindell (Martin's first girlfriend) said she was to have a part in Tora! Tora! Tora!, quoted toward the end of this page.
Steve Burton, who was also the DJ, admitted his participation for this concert in Facebook group Depeche Mode Classic Photos And Videos:
"I was on the committee of the Nicholas Old Pupils Association (NOPA) who were looking to arrange an event to promote the organisation. [CoS] said to me, Oh you're on this [committee], we'd like to play a concert. I said I'd take it to the committee. I said [to the committee] that some friends of mine had recently formed a band & were looking for opportunities to perform live. I assured the committee that the band were good & that people would come along to support a gig. So it was agreed to clear the large locker room out in Nicholas School to make a stage & set big enough for 'Composition of Sound'. I did the DJing too playing a selection from my record collection in between the live music. Yes, folk did turn up. And the rest, they say, is history..."
Deb Danahay's friend Nikky Avery in 2011: "Dave brought that Southend crowd to the gig. About 50 or 60 people. I think Dave made CoS cool, for want of a better word. Before Dave joined they were just a bit of a geeky band."
Martin and Andy gave the following details in 2009 when asked about DM's first gig as Depeche Mode:
Question: So you became Depeche Mode, what, about summer 1980?

Gore: "I think it was around May 1980."

Fletcher: "I dispute that."

Gore: "You're just wrong! There's a friend of ours Daryl [Bamonte] who used to be a roadie for us back in the old days and he's kept a diary which contains an official date – I think it's some time in May when we first played as Depeche Mode. It was a school gig. I suppose in theory we would have got together at least a few weeks before that because we would have started rehearsing. But I reckon you could call the date of that first school gig the 30th anniversary."

Question: What was that first gig like?

Fletcher: "That's when you were in both bands! There was another band playing on the bill called The French Look and Martin was in both of them so between sets he had to change his image. [both Martin and Dave laugh] That was the first time that Dave sang and he was really nervous. So nervous. It was at our old school St Nicholas."

Gore: "The main thing I remember about that night was that someone wanted to beat Vince up and one of our friends who was a good fighter had to step in for him and beat this other bloke up. [laughs]"
Dave and Andy recalled this in June 1981:
Fletcher: "You spent half an hour outside trying to calm down. You had about ten cans of lager."

Gahan: "All I can remember is saying to myself, 'I don't want to do it, I don't want to do it.'"
36 years after the event, Dave Gahan was asked on Polish television "Do you remember your first gig ever?", to which he (understandably) replied: "I invited a few friends... I don't really remember much about those... I don't really remember the first real concert! No, now that I really think about it, no one has ever really asked me that."
Daryl Bamonte and Robert Marlow spoke of this gig in a long interview with cornerstones of DM in German Musikexpress magazine, March 2011 (translated):
Daryl Bamonte: "The first gig with Dave took place at our school, in the Nicholas Comprehensive. The concert cost 50p as an admission fee. The bands played in a big hall [which was the upper school cloakroom] upstairs. As always, I was helping with setting it up. Dave was really nervous and Vince was annoyed about Martin playing in both bands. He was standing in our kitchen at home and said: "I will put Martin on drugs.""

Robert Marlow: "Vince was extremely angry [with Martin], because Martin would perform in both bands. But that's what Martin is like: He wants to do good for everyone. Nevertheless, Vince was expecting a clear commitment. We had put the support act, Composition Of Sound (who from this night on, if I remember correctly wanted to be called "Depeche Mode") as the headliner slot. So it was a historic night in June 1980: Depeche Mode in complete line-up for the first time; Vince, Fletch, Martin and Dave. I thought the name was pathetic, just the sound of it for starters: Depeche Mode - pay attention the French pronunciation. But we played our set, Martin went offstage, changed his shirt and is about to go back on again. Suddenly, Vince is going completely mad: he screams all around him, and actually claims that we have changed the settings on the synthesizers!"
In Jonathan Miller's 'Stripped', both Marlow and Clarke still accuse each other of changing the settings on the keyboards before the other person's performance. Marlow said it again for Erasureinfo.com:
"It was a Saturday night. The book mentions that the two bands fell out, which was true, because Depeche Mode deliberately sabotaged our set! I think we were headlining, and they were on first, and we were both using the same keyboards - Fletcher was playing my Korg, well, to be honest he didn't play much - except at this gig they messed up all the settings before we went on!"
In Steve Malins' Depeche Mode biography, it is said that Rob Marlow also had a falling out with his bandmate Paul Redmond, besides Vince.
French Look went on and during the first song, Rob Marlow had an argument with Paul Redmond and the gig collapsed because the latter refused to play his keyboards. Not surprisingly they broke up after that. Daryl Bamonte describes the gig as a "... good night. I was still at the school and we were amazed because Dave instantly brought all his crowd from Southend. All of a sudden, there in a school hall, were about thirty or forty New Romantic weirdos along with all the young local kids. That's when Vince realised that he's made a good choice."
In Simon Spence's 2011 DM biography, Anne Swindell (Martin's first girlfriend) says that she was supposed to join in:
"I was supposed to be playing saxophone on 'Tora! Tora! Tora!' I'd been practising and practising and practising, and then we turned up for rehearsal at the school and Paul Redmond was there, and Dave Gahan was there, and it completely flummoxed me: oh my God, I don't know these people and they're totally good looking and everybody knows them, they're really 'in' in Basildon! They were very sweet and I still did the rehearsal and everything, but when it came to the gig I couldn't do it. I couldn't go on stage."
Set list (unconfirmed)
Steve Burton, who helped organize this concert, suggests the set list could be something like this:[1]
Virginia Plain (Roxy Music cover)
Then I Kissed Her (The Beach Boys cover)
References