1981-08-26 Institute of Contemporary Arts, London, England, UK/Source 1
From DM Live - the Depeche Mode live encyclopedia for the masses
Jump to navigation
Jump to search
Notes

A very good quality FM broadcast recording of three tracks. Bass can be a little boomy and overpowering, and the high frequencies extend out to about 13khz, but as this was recorded on a portable radio, this is not unexpected.
2020 revision for the concert's 39th anniversary: transfer once more on a superior deck, yielding better sound quality and correct speed.
The original copy of this recording was a MiniDisc copy of this cassette that sounded considerably worse than this transfer from the original master cassette. This audio is significantly clearer overall, with the second and third tracks no longer having an unusual "pumping" effect nearly as audible as with the old transfer, and there are no fades or cuts that do not appear on the original tape. A million thanks to the original taper John for taking the time and effort to locate his master tape and ship it to me! The resulting upgrade in sound quality speaks for itself.
This FM broadcast provides another soundboard-quality source for the tracks The Price Of Love and Dreaming Of Me. The only other current source for The Price Of Love in such quality is the soundboard recording from 1981-06-27 Crocs, Rayleigh, Essex, England, UK. Boys Say Go! has several soundboard and FM sources available (see Boys Say Go / 1981 Tour). Dreaming Of Me has a somewhat different arrangement and sound, more closely resembling the single version compared to the version played at Crocs.
Note that this concert was reported by a local newspaper's review to have been video taped. DM Live has contacted the Institute of Contemporary Arts to inquire whether the supposed video recording or any sort of audio recording exists in their archives, but the response was that the material no longer exists. Read the newspaper review and ICA's response at the main page for this concert.
Listen
You can listen to this entire recording below.
Track list
[2:30] Play Boys Say Go!
[4:08] Play The Price Of Love
[3:31] Play Dreaming Of Me
Lineage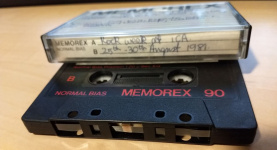 Complete FM broadcast recording, incomplete concert recording
Capital Radio FM broadcast spanning August 25-30, 1981 -> unknown FM tuner -> Toshiba portable stereo radio / cassette recorder (unknown model) -> Memorex 90-minute normal bias cassette (master) -> Nakamichi MR-1 professional discrete head cassette deck (pitch and playback azimuth adjusted to match these tapes) -> Mogami 2534 XLR to TRS cables -> Focusrite Scarlett 2i2 3rd gen USB audio interface -> WAV (32/88.2) -> in Audacity: normalized to -0.1dB and any DC offset removed, track splits -> WAV (32/88.2) -> downsampled to FLAC level 8 (16/44) using foobar2000 v1.5.5, FLAC 1.3.3 64-bit, and foobar2000's Resampler (SoX) component v0.8.3 (best quality), dithering enabled
Taper: John Gates
Generation: master
Transfer: DMLiveWiki
Cassette photos and auCDTectTaskManager log included
Download