1981-09-29 Les Bains Douches, Paris, France
From DM Live - the Depeche Mode live encyclopedia for the masses
Jump to navigation
Jump to search
Notes
This concert was broadcast over FM radio station France-Inter. A pre-FM recording as well as two FM broadcast recordings are available below.
Paris Match asked Andy Fletcher in 2008 if DM still remembered this gig: "Yes! It was the Bains-Douches in Paris in 1980. We were very young. This place used to be a swimming pool, and it became one of our favourite places when we were in Paris."
Tim Michael Williams wrote on Facebook page 'Basildon: New Town - New Life':
"[...] The French audience where [sic] clearly into punk and indie music and suprisingly [sic] quite aggressive in their dancing compared to the UK. One member of the audience was shouting quite aggressively (who knows, it might have been complementary) causing Dave Gahan to angrily dedicate 'Just Can't Get Enough' [our new single] "to the heckler down there". [...]"
Deb Danahay, Vince Clarke's then-girlfriend, wrote on her Facebook page 'Depeche Mode Information Service - 1981' in 2014:
"1st October 1981: After the successful Mini Euro Tour, the band with Daniel Miller, Daryl Bamonte, Jo[anne Fox] and Anne [Swindell] had gone back home. Vince wanted to stay and 'sight see' for a couple of days. I have a lovely collection of photos taken, like this one at the Notre Dame and on the Eiffel Tower.... It was during these two days that Vince told me he had decided to leave the band... but an announcement wasn't made for a few weeks..."
Set list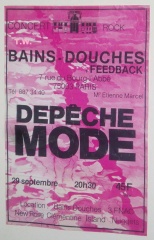 The final two songs comprising the encore are assumed to have been played to yield an approximately 60 minute set, although they are not present in any recording of the concert to-date. Songs are based off the set list of 1981-09-26 Paradiso, Amsterdam, The Netherlands.
Sources
Source 1 is an excellent sounding pre-FM recording, free of DJ chatter, and with a missing song patched in from Source 2.
Source 2 is a superb sounding FM broadcast recording from a master reel-to-reel. It is slightly less complete than Source 3, unfortunately.
Source 3 is an excellent sounding FM broadcast recording from a first-generation cassette tape.