1984-12-09 Alsterdorf Sporthalle, Hamburg, Germany/Source 1
From DM Live - the Depeche Mode live encyclopedia for the masses
Jump to navigation
Jump to search
Notes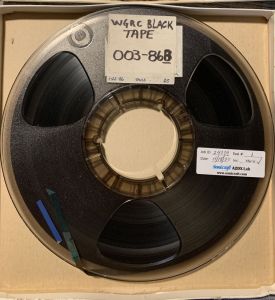 DM Live purchased this reel from eBay and had it transferred professionally by the exceptional Sonicraft A2DX lab. Audio quality is excellent, only hampered by an occasional dropout and some strange volume fluctuations from time to time.
This is a complete recording of what would have been broadcast, but it is not a complete concert recording. The following tracks are missing: "Something To Do", "Two Minute Warning", "Puppets", "If You Want", "Shame", "Lie To Me", "Photographic", and "Shout". The majority of this concert's audio is also found on the out-of-print home video release The World We Live In and Live In Hamburg, but as this reel is an alternate source for the audio which was intended for radio broadcast, it is provided in full on DM Live. The audio mix sounds to be the same as what's on The World We Live In and Live In Hamburg, and the quality is about comparable to what you'd hear on the VHS or LaserDisc; it's probably a bit worse given the other flaws previously mentioned.
This was also broadcast at least once on WLIR 92.7 FM, and a generally worse-sounding FM broadcast recording (which is lossy, with more background noise, distorted bass, ground hum, and less clarity, and has a tape flip toward the end of See You, but including radio DJ intros and outros) can be found at Source 2.
This radio broadcast is currently the only source for the track Ice Machine from this concert, which has not yet appeared on any official video or audio release. This version of Ice Machine has been carefully compared against the other available soundboard quality versions of the song from 1984 (official Blasphemous Rumours single release B-side track from 1984-09-29 Liverpool, the pre-FM BBC vinyl / raw soundboard tape from 1984-11-02 London, and the 1984-11-30 Basel pre-FM recording) and it is unique to this reel. "Puppets" from this concert has no recording circulating to date, including audience recordings. Because this audio was prepared so relatively soon after the filming of the concert, it is reasonable to assume that the entire concert's audio was recorded, and these two tracks were chosen to be left off the home video release for whatever reason, whether that be in the interest of time, or whether the songs were deemed to not fit well with the remainder of the concert, similar to what happened to two tracks on the original "Devotional" video release on Shunt Q&A:
Why did the 'Devotional' video not include 'Policy Of truth' and 'Halo' considering you played them almost every show?
It was probably necessary to tighten up the compilation to fit within a particular time frame, so some tracks had to be omitted. These tracks were felt to be older and didn't work as well visually as some of the others.
Listen
You can listen to this entire recording below.
Track list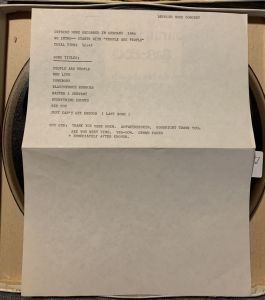 Lineage
7.5ips pre-FM reel tape prepared for WXXP FM in Philadelphia, created on January 22, 1986 -> transferred by Sonicraft A2DX lab on Studer A80-JKC reel to reel player in April 2020 -> WAV (24/96) -> in Audacity: normalized to -0.1dB and any DC offset removed, track splits -> WAV (32/96) -> downsampled to FLAC level 8 (16/44) using foobar2000 v1.5.5, FLAC 1.3.2 64-bit, and foobar2000's Resampler (SoX) component v0.8.3 (best quality), dithering enabled
Reel photos included
Download