1986-06-24 St. Paul Civic Center, St. Paul, MN, USA/Source 1
From DM Live - the Depeche Mode live encyclopedia for the masses
Jump to navigation
Jump to search
Notes
A superb audience recording, easily one of the best from this tour. Christmas Island is missing the first couple minutes, but otherwise this is a complete recording.
Revision A notes: 2023 retransfer on a high-end Nakamichi cassette deck. High-frequency response is extended, playback speed is correct, there is less hiss, and general clarity of the recording is improved. The track splits are also better placed than the prior version. Though this revision is not a humungous upgrade, this recording is so good that it deserves a high-end transfer to extract as much detail as possible from it.
Note from the prior version's original info file:
Back in 1995 I bought these master tapes from guy selling his collection advertised in Goldmine. His name was Dan Halvorson and he recorded the show with a D5 and PZM Mic.
Many thanks to James K. for providing these cassettes for archival.
Listen
You can listen to this entire recording below.
Track list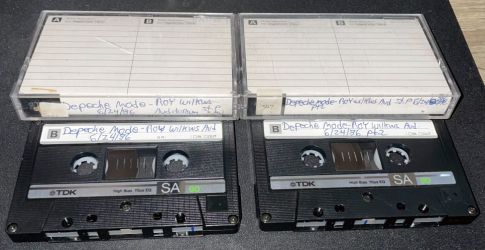 Lineage
Sony TC-D5 cassette recorder + unknown model PZM (pressure zone) microphone -> 2x TDK SA 90 high position cassettes, 1985 - 1986 US stock -> Nakamichi MR-1 professional discrete head cassette deck (playback azimuth optimized) -> Mogami 2534 XLR to TRS cables -> Focusrite Scarlett 2i2 3rd gen USB audio interface -> WAV (32/88.2) -> recorded in Audacity 3.2.3 using WASAPI input; waveform inverted, three loud mic bumps limited, channels normalized to -0.1dB and any DC offset removed, track splits -> WAV (32/88.2) tracks -> downsampled to FLAC level 8 (16/44) using foobar2000 v1.6.14, FLAC 1.4.2 64-bit, and foobar2000's Resampler (RetroArch) component at "Highest" quality, dithering enabled
Generation: master
Taper: Dan Halvorson
Transfer: DMLiveWiki on January 2, 2023
Cassette tape photo & auCDTectTaskManager log included
Download