1990-10-12 Hallenstadion, Zurich, Switzerland/Source 3
From DM Live - the Depeche Mode live encyclopedia for the masses
Jump to navigation
Jump to search
Notes
A very good audience recording. Somewhat noisy crowd around the taper. Bass is slightly distorted depending on the song. This is a well-recorded tape with Dolby B noise reduction utilized, so Dolby B was used during playback as well for a hiss-free capture. A tape flip occurs right after Master And Servant ends and the result is a little jarring, but no music is lost. Unfortunately, the first minute and 20 seconds of Enjoy The Silence are missing due to tape change, otherwise this is a complete recording. There is a 10-second drop in volume in the middle of Stripped which probably occurred when the recording deck's level adjustment was accidentally changed.
Many thanks to subwave collection CH for recording this concert and to Vince for his assistance with securing these tapes.
Listen
You can listen to this entire recording below.
Track list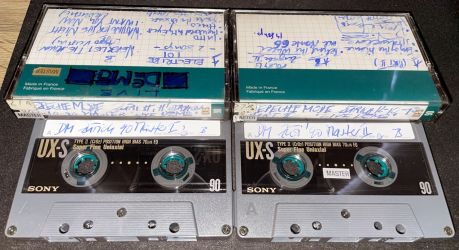 Lineage
unknown microphone (possibly an Aiwa) + Sony WM-D6C tape recorder -> 2x Sony UX-S 90 high position cassettes, 1990 - 1992 stock, recorded with Dolby B -> Nakamichi MR-1 professional discrete head cassette deck (Dolby B engaged, pitch and playback azimuth optimized) -> "Worlds Best Cables" 6-foot Mogami 2534 cables with Neutrik XLR and TRS plugs -> Focusrite Scarlett 2i2 3rd gen USB audio interface -> recorded at 32-bit 88.2kHz in Audacity 3.3.2 using WASAPI input -> in Audacity 3.3.2: level adjustments, normalized to -0.1dB and any DC offset removed, track splits -> WAV (32/88.2) tracks -> downsampled to FLAC level 8 (16/44) using foobar2000 v2.0, FLAC 1.4.2 64-bit, and foobar2000's Resampler (RetroArch) component at "Highest" quality, dithering enabled
Taper: subwave collection CH
Generation: master
Transfer: DMLiveWiki on May 27, 2023
Cassette tapes photo, tape inlay scans, and auCDTectTaskManager log included
Download