1990-11-01 Deutschlandhalle, Berlin, Germany/Source 1
From DM Live - the Depeche Mode live encyclopedia for the masses
Jump to navigation
Jump to search
Notes
A very good audience recording. The first few seconds of Kaleid were missing from this tape, so I completed the track using a prior source of this recording; the unpatched version of the track is available in the subfolder "unpatched Kaleid". The last four tracks are somewhat more muffled than the rest of the concert.
This is the same source as what was previously available, but this version is superior as it does not have speed issues, has better clarity, and has a known lineage from the master cassette.
Many thanks to RP for lending me this cassette to transfer and share.
Listen
You can listen to this entire recording below.
Track list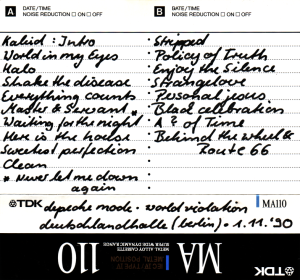 Lineage

Aiwa tape recorder + unknown mics -> unknown cassette master -> first-generation TDK MA110 cassette copy -> Nakamichi MR-1 professional discrete head cassette deck (playback azimuth optimized) -> Mogami 2534 XLR to TRS cables -> Focusrite Scarlett 2i2 3rd gen USB audio interface -> WAV (32/88.2) -> recorded in Audacity 3.1.3 using WASAPI input; stereo channels phase aligned, spectral edit multi-tool to eliminate ringing noises, soft limited mic bump, slight EQ, normalized to -0.1dB and any DC offset removed, track splits -> WAV (32/88.2) tracks -> downsampled to FLAC level 8 (16/44) using foobar2000 v1.6.11, FLAC 1.3.4 64-bit, and foobar2000's Resampler (RetroArch) component at "Highest" quality, dithering enabled
Generation: first
Taper: MC
Transfer: DMLiveWiki on June 5, 2022
Cassette tape photo, tape inlay scan, and auCDtectTaskManager log included
Download