1993-05-21 Hallenstadion, Zurich, Switzerland/Source 2
From DM Live - the Depeche Mode live encyclopedia for the masses
Jump to navigation
Jump to search
Notes
A good audience recording. Bass is somewhat overpowering for most songs. Never Let Me Down Again through the beginning of Enjoy The Silence have microphone overloading, resulting in digital clipping present on the DAT itself. Most of Enjoy The Silence through the end of the recording does not suffer from the overpowering bass and sounds better than the rest of the tape; if the entire recording sounded like these songs, this would be a fanstastic recording overall.
Compared to Source 1, this recording does not have as shrill treble, but conversely suffers from overpowering bass for most songs.
Many thanks to RP for lending me his master DATs to transfer and share.
Listen
You can listen to this entire recording below.
Track list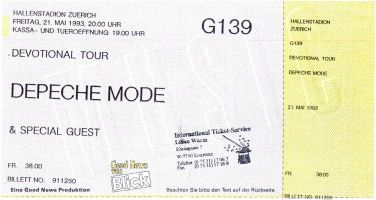 Lineage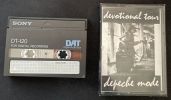 Sony TCD-D3 DAT recorder + Soundman OKM II microphones -> Sony DT-120 DAT tape (16/48) -> Seagate CTD-8000 SCSI tape drive -> WaveDAT software -> WAV 16/48 -> in Audacity 3.1.3: stereo channels phase aligned, normalization, track splits -> FLAC level 8
Generation: master
Taper: RP
Transfer: DMLiveWiki on August 21, 2022
DAT photo and auCDtectTaskManager log included
Download