1993-06-14 Westfallenhalle, Dortmund, Germany
From DM Live - the Depeche Mode live encyclopedia for the masses
Jump to navigation
Jump to search
Notes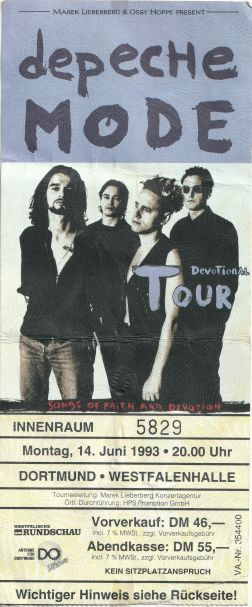 Here is Daryl Bamonte's entry for the famous Devotional Tour Diary, published in Bong magazine in 1994:
After a great show (Westfalenhalle), we went over the road to the park hotel for a quiet drink. (The crew were staying there.) Woke up the next morning in a twin room in the park hotel. Apparently, Martin and I checked in.
This was the first time One Caress was played live (accompanied by a string quartet). Dave also invited a girl on stage during one song.
Alan Wilder answered this question on his website in 1999:
Question: "I read that Kraftwerk came to see Depeche Mode perform. Do you vividly remember that performance?"
Alan: "They used to turn up now and then to various shows but I can't remember any specific performances. The last time I recall seeing any of them was in 1993 when Karl [Bartos] came to the Dortmund show and I remember introducing him to [Hepzibah Sessa]."
Miranda Sex Garden was the support act.
Video
Set list
Intro
Judas (*)
One Caress (*)
Sources
Source 1 is Elly Apfel's good, complete audience recording.