1993-06-16 Waldbuhne, Berlin, Germany/Source 3
From DM Live - the Depeche Mode live encyclopedia for the masses
Jump to navigation
Jump to search
Notes
A very good audience recording. There is a very lively crowd around the taper, with lots of clapping going on. The first few seconds of Higher Love have some diginoise artifacts, but the rest of the recording seems to be unaffected, thankfully. The microphones are sometimes overloaded by nearby claps, causing digital clipping on the DAT itself. Unfortunately, the tape ends about halfway through Fly On The Windscreen, and "Everything Counts" was not recorded.
The piano does not work during Condemnation. Martin starts singing too late during Judas. Dave sings the wrong line during the first verse of Never Let Me Down Again, singing "promises me I'm safe as houses ... as long I remember, the words"; the audience corrects him, and Dave shouts "that's the one! alright!".
Many thanks to RP for lending me his master DATs to transfer and share.
Listen
You can listen to this entire recording below.
Track list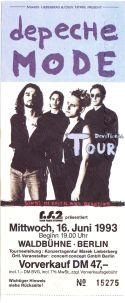 Lineage

Sony TCD-D3 DAT recorder + Soundman OKM II microphones -> Denon R-120DT DAT tape (16/48) -> Seagate CTD-8000 SCSI tape drive -> WaveDAT software -> WAV 16/48 -> in Audacity 3.1.3: stereo channels phase aligned, normalization, track splits -> FLAC level 8
Generation: master
Taper: RP
Transfer: DMLiveWiki on August 21, 2022
DAT photo and auCDtectTaskManager log included
Download