1993-06-26 Halle Tony Garnier, Lyon, France/Source 1
From DM Live - the Depeche Mode live encyclopedia for the masses
Jump to navigation
Jump to search
Notes
A good sounding, complete audience recording. It has a slight reverberation, there is a fairly noisy crowd around the taper, and the bass is generally distorted. About five minutes of the pre-show music was removed from this recording.
Many thanks to Nanka, Falko N, and JMC for orchestrating the transfer of this recording, and to mcCoy for taping the recording and lending out his master.
An inferior cassette-sourced recording is also available at Source 2. It remains on the wiki because it is a unique source.
Listen
You can listen to this entire recording below.
Track list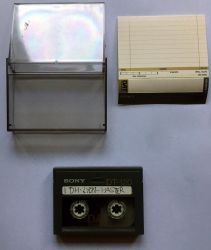 Lineage
unknown Sony microphone + Sony TCD-D7 DAT recorder recording in LP mode -> Sony DT-120 DAT -> Aiwa HD-S200 portable DAT recorder -> optical output -> Creative SoundBlaster Z (optical in) -> Audacity (16/44) -> FLAC -> in Audacity 3.3.3: normalized to -0.1dB and any DC offset remove, stereo channels phase aligned, track splits -> FLAC level 8
Taper: mcCoy
Generation: master
Transfer: darkdevoted (JMC) on April 2, 2021
DAT photo, auCDtectTaskManager and original info file included
Download