1993-10-22 The Palace, Detroit, MI, USA
From DM Live - the Depeche Mode live encyclopedia for the masses
Jump to navigation
Jump to search
Notes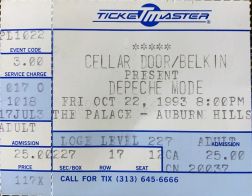 According to Billboard and Lansing State Journal, this concert was sold out (14,100 people), and the band grossed $362,441.
Here is Daryl Bamonte's entry for the famous Devotional Tour Diary, published in Bong magazine in 1994:
October 21st, DETROIT: Went to see the Detroit Red Wings beat someone else at ice hockey. A fantastic atmosphere. It's amazing how the Americans can have a sport where the players beat the shit out of each other, and yet the crowd remain jovial and even bring their kids along. THAT'S how you maintain sell-out crowds. Premiership clubs take note.
The The was the support act.
Set list
Intro
One Caress (*)