1993-10-29 Rosemont Horizon, Chicago, IL, USA/Source 1
From DM Live - the Depeche Mode live encyclopedia for the masses
Jump to navigation
Jump to search
Notes
A good, maybe even a very good audience recording. There's some slight distortion and boominess, mostly in the right channel, and there isn't a whole lot of dynamic range, but otherwise it's a fairly clear sounding recording with little audience noise during the songs. The first half of the concert was not recorded since the tape recorder was mistakenly and unknowingly recording on part of the A-side prior to the concert. Rush is missing the first few seconds due to tape flip. Unfortunately, at 1:06 into Rush, there is a 10 second segment of drop outs and garbled sound due to a section of tape that became crinkled in my tape deck - 120 minute tape is very, very thin and sensitive compared to shorter tape lengths, so it does not come as too much of a surprise. A patched version of the track using the available 256kbps MP3 version of this recording is available in the "Patched Rush" folder, if you choose to use it. The main torrent has the unpatched version. The final 20 minutes of the B-side is all audience noise, but I left it out due to the fact that commercial music is played and it's really just a waste of space.
Many thanks to Frank for taping the concert, keeping his cassette all these years, providing photos of his backstage pass & ticket stub, and quite generously shipping the tape to me to transfer, share, and keep. This recording previously circulated as a 256kbps MP3 copy (at least, that is the only copy I ever found), which played a bit too slow and much too quietly, had fades, missing encore audience noise, and was missing Everything Counts entirely.
I must reiterate: if you taped any concert of Depeche Mode, even with low-end equipment like Frank used, please consider lending me your tape to transfer! This tape actually sounds quite good considering all of the circumstances, and even though it's incomplete, it's still a nice memento of the concert, and a basically uncirculated one to boot. If you compare this transfer to the previous 256kbps MP3 version, there is simply no contest.
Listen
You can listen to this entire recording below.
Track list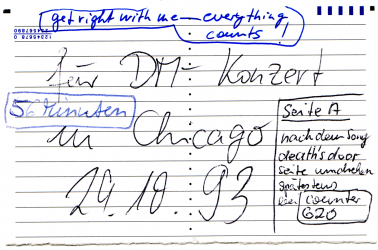 Lineage

Incomplete audience recording
Lineage: Sony cassette recorder with built-in mics (unknown model) -> BASF Chrome Extra II 120 high position cassette, 1991 - 1993 stock (later edition) -> Nakamichi Dragon cassette deck, serviced and upgraded (details) -> Blue Jeans Cable LC-1 8-foot RCA cable -> Creative Sound Blaster ZxR (RCA Line In) -> Adobe Audition CC 2015 (32-bit / 88.2 khz) -> normalized to -0.1dB and any DC bias removed, Rush patched -> WAV (32/88.2) -> tracked using Audacity 2.1.1 -> WAV (32/88.2) tracks -> FLAC 16-bit 44.1khz using FLAC 1.3.1 64-bit (level 8 compression) and foobar2000 v1.3.9 with its Resampler (SoX) component v0.8.3 (best quality), dithering enabled
Generation: master
Taper: Frank H.
Transfer: DMLiveWiki
Cassette tape photos, tape inlay scan, photos of ticket and backstage pass, and auCDtectTaskManager log included
Download