1993-12-14 N.E.C., Birmingham, England, UK/Source 1
From DM Live - the Depeche Mode live encyclopedia for the masses
Jump to navigation
Jump to search
Notes
A decent audience recording. It's hissy and bass is generally heavily distorted. There isn't much crowd noise around the taper. A Question Of Lust through the end of the recording have speed fluctuations throughout the songs. This seems to be a fault on the tape itself and not with the cassette deck, as the fluctuations are also present on the MP3 128kbps version of the recording. This source also has Personal Jesus and Enjoy The Silence which are not present on the MP3 version.
Due to the prevalent hiss, this tape most likely has a few generations on it. Thanks to darkdevoted for confirming that this is Wayne's recording. This was previously only available as MP3 128kbps with heavy noise reduction applied. These tapes were an eBay purchase from someone purporting these to be their own masters, but they clearly aren't. Had I known that at the time, I would've returned them for a refund, but it's too late now.
Amusingly, the beginning of One Caress can be heard about 40 seconds in to the Stripped intro. Guess someone pressed the wrong button.
Listen
You can listen to this entire recording below.
Track list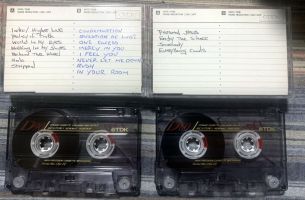 Lineage
unknown recording equipment -> TDK D90 & TDK D60 type I cassette tapes -> Nakamichi MR-1 professional discrete head cassette deck (pitch and playback azimuth adjusted to match these tapes) -> Mogami 2534 XLR to TRS cables -> Focusrite Scarlett 2i2 3rd gen USB audio interface -> WAV (32/88.2) -> in Audacity 2.4.2: normalized to -0.1dB and any DC offset removed, track splits -> WAV (32/88.2) -> downsampled to FLAC level 8 (16/44) using foobar2000 v1.6.2, FLAC 1.3.3 64-bit, and foobar2000's Resampler (SoX) component v0.8.3 (best quality), dithering enabled
Taper: motr1912
Transfer: DMLiveWiki
Cassette photos auCDtectTaskManager log included
Download