1993-12-20 Wembley Arena, London, England, UK/Source 2
From DM Live - the Depeche Mode live encyclopedia for the masses
Jump to navigation
Jump to search
Notes
A good audience recording of the final concert of the 1993 "Devotional" Tour. There are a couple noisy screamers around the taper, unfortunately. A live string section was used for the performance of One Caress. Behind The Wheel ends about 30 seconds early, and Halo is missing the first half of the recording, probably due to tape flip as the opening act "Marxman" was also recorded by the taper. There is considerable wow & flutter audible throughout, and there is general distortion present due to microphone or tape oversaturation. The opening act by Marxman was present on the second tape and was transferred, but it is not included here.
These cassettes were purchased by DIME user "amicouligano" at the Camden Market in 1994, and he shared his transfer of these exact cassettes on DIME years ago. Many thanks to him for sending me these cassettes from Italy for transfer. Compared to the previous version, this version is azimuth optimized and far clearer in general, and without any digital clipping introduced during the transfer.
Listen
You can listen to this entire recording below.
Track list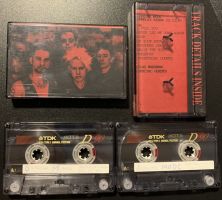 Lineage
unknown taper and equipment -> two low-generation TDK D90 type I cassette tapes -> Nakamichi MR-1 professional discrete head cassette deck (playback azimuth optimized per tape) -> Mogami 2534 XLR to TRS cables -> Focusrite Scarlett 2i2 3rd gen USB audio interface -> WAV (32/88.2) -> recorded in Audacity 2.4.2 using WASAPI input; normalized to -0.1dB and any DC offset removed, track splits -> WAV (32/88.2) -> downsampled to FLAC level 8 (16/44) using foobar2000 v1.6.2, FLAC 1.3.3 64-bit, and foobar2000's Resampler (SoX) component v0.8.3 (best quality), dithering enabled
Taper: unknown
Transfer: DMLiveWiki on December 11, 2020
auCDtectTaskManager log and cassette photos included
Download