1994-03-08 Tennis Centre, Melbourne, Victoria, Australia/Source 1
From DM Live - the Depeche Mode live encyclopedia for the masses
Jump to navigation
Jump to search
Notes
A good audience recording. Some of the concert intro is missing. About half of the first tape (up through the middle of Walking In My Shoes) is true dual-mono, as the right channel dropped out just after the instrumental intro and before Rush began, but it is fairly obvious that this is ultimately a mono recording regardless - no doubt the equipment used only had one microphone. I retained the "stereo" intro, of course. Walking In My Shoes is missing about 24 seconds from the middle of the song due to tape flip, but luckily the rest of the recording is now in "stereo". A small amount of the beginning of I Feel You is also missing due to tape flip. There are occasional small dropouts or glitches and slightly muffled periods perhaps where the recording device was jostled or concealed temporarily, but for the most part the recording is quite clear.
This was recorded at way too high of a level, so there is distortion and saturation throughout the recording. I am told that the recording device used was a low-end generic "Walkman" clone which likely did not even have a recording input level adjustment, so this is not necessarily the fault of the taper. Not only that, but the prior commonly circulating transfer of this recording was captured at too high of an input level, so digital clipping was introduced on top of the tape's inherent distortion. A significant amount of the distortion heard on the prior version did result from the digital clipping; I was actually expecting a much worse recording on these tapes and was very pleasantly surprised! This transfer has no digital clipping and was performed using a high end tape deck which yielded usable frequency response out to 32khz or so vs the prior transfer's 19khz (anything higher was cut due to an undefeatable MPX filter which is common to many lower end decks, even without Dolby engaged). Not that that matters significantly since we're not bats, but it just helps illustrate what a good tape deck can do. One good side effect of the crazy high recording level is that tape hiss is just about inaudible as the signal is so much louder than the innate tape hiss.
The prior transfer also had a noticeable amount of wow & flutter throughout the entire recording which has been significantly reduced due to the use of a dual-capstan cassette deck with pressure pad lifter - just compare Somebody between the transfers and you'll definitely hear a marked improvement. Any wow & flutter you may hear now is present on the tape and unfortunately nothing can be done about it; luckily, noticeable W&F only occurs in occasional short segments and should not be too detracting from the recording. All told, this is a very good recording considering the equipment and tape used; Brent said that recording the show was a last-minute decision and he just scrounged up whatever gear he could to record the show with.
This is another example of how much improved even a "low-end" recording made with inexpensive normal bias tape and a low-end recorder can sound when transferred using a top of the line cassette deck. If you recorded any concert of Depeche Mode on cassette tape, no matter the equipment, and transferred it using that same equipment, it may not sound the best it can. Please consider lending me the tape(s) to transfer and we'll see whether there is room for improvement - I'm willing to bet there is! Also, if you have a recording you haven't shared yet, I implore you to consider doing so! It doesn't matter if you only recorded 2 songs from outside the venue - you are still holding on to an important piece of Depeche Mode history and it is worth sharing. Please contact me if you are interested in contributing your recording(s), I would be more than happy to transfer your recording and pay for shipping both ways.
Many thanks to Brent for originally taping the concert, generously lending me his master tapes, providing scans of his ticket, and for keeping them in good condition all these years.
Listen
You can listen to this entire recording below.
Track list
Lineage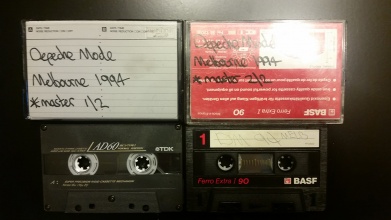 Incomplete audience recording
Lineage: unknown brand low-end portable tape recorder + internal mic -> master cassettes (TDK AD60, 1990 - 1991 stock; BASF Ferro Extra I 90, 1988 - 1989 stock) -> Nakamichi Cassette Deck 1 (fresh belts, upgraded capstan motor, playback amplifier capacitors replaced, tape wound & rewound before transferring, azimuth optimized per tape) -> Monoprice heavy-duty RCA to 3.5mm cable -> ASUS Xonar DX sound card -> captured at 32-bit 96khz in Adobe Audition CC 2014.2: sped up 2.0% (Audition method), left channel pasted over right between 1:49 and 30:51, various contiguous sections normalized to -0.1dB and any DC bias removed -> WAV (32/96) -> tracked using Audacity 2.1.0 -> WAV (32/96) tracks -> FLAC 16-bit 44.1khz using FLAC 1.3.1 64-bit (level 8 compression) and foobar2000 v1.3.8 with its Resampler (SoX) component v0.8.3 (best quality), dithering enabled

For the 24/96 version, the last step is replaced with FLAC 24-bit 96khz using FLAC 1.3.1 64-bit (level 8 compression) and foobar2000 v1.3.8

Generation: master
Taper: Brent Graham ([email protected])
Taping location: lower section, row B
Transfer: DMLiveWiki
Cassette tape photos, ticket scans, and auCDtectTaskManager log included
Download