1994-05-21 Blockbuster Pavilion, San Bernardino, CA, USA
From DM Live - the Depeche Mode live encyclopedia for the masses
Jump to navigation
Jump to search
Notes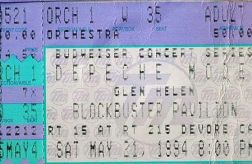 Allegedly, there were massive problems during I Feel You.
Here is Daryl Bamonte's entry for the famous Devotional Tour Diary, published in Bong magazine in 1994:
We had to stop the car on the way back to San Fran. because MLG wanted to pee. He walked towards the grass as me and John Sampson (security) formed a human shield and as we looked back we were greeted with the sight of just a pair of creepers pointing skywards and strange whimpering. "Shomeone should have shaid shomething" he cried as we pulled him out of the hole…
Turning Keys, Stabbing Westward and Primal Scream were the support acts.
Set list
Sources
Source 1 is a very good audience recording; maybe a bit lacking in bass, and there are some screamers around the taper.