1994-07-04 Pine Knob Music Theatre, Detroit, MI, USA
From DM Live - the Depeche Mode live encyclopedia for the masses
Jump to navigation
Jump to search
Notes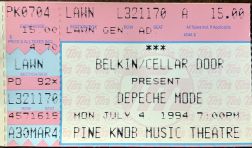 Here is Daryl Bamonte's entry for the famous Devotional Tour Diary, published in Bong magazine in 1994:
July 4th, DETROIT: The three fans, Stymie, his girlfriend and their best friend Jesus thought it would be fun to stand in the front row last night and hold up red cards (they've just discovered football over here). Found out that Jesus' real name was Dave, which seemed like a funny name for The Messiah – until I REALLY thought about it… We had our end-of-tour party last night. Andy Franks spent an hour chatting up a gorgeous blonde called Brandy. No-one had the heart to tell him it was Martin in drag. The highlight of the night was "Torture Man", who, well, tortures himself…

July 5th, DETROIT: I was so tired last night that I had to sit down onstage, and when I looked round I noticed that the others were doing the same, even Alan. (He was playing the drums though...).
According to the Detroit Free Press, this concert was sold out.
Stabbing Westward and Primal Scream were the support acts.
Video
Set list
Sources
Source 1 is Falko N's good master audience recording.