1998-09-09 Hartwall Arena, Helsinki, Finland
From DM Live - the Depeche Mode live encyclopedia for the masses
Jump to navigation
Jump to search
Notes
Here is the diary entry by Jez Webb from Bong magazine issue #40:
The band's best ever performance in Finland hailed the local press. We had to point out to them it was the lads' 'first ever performance' in Finland...
And here is the diary entry by Jody:
Andy Franks, the tour manager for Depeche Mode, had his computer stolen while the band was in St. Petersburg. He is asking the fans of Depeche Mode to help him find his computer, which has personal info about the band on it. If you are traveling through St. Petersburg, or in Moscow, and are offered a computer directly from Depeche Mode, please make the person a large offer, and immediately contact the webmaster of depechemode.com. You will be rewarded!

This morning we flew to Helsinki in our private plane (we now have Swiss chocolate on-board the plane!). Andy Franks was in the cockpit today, driving the plane (not!). He was bossing the pilots around, got on the P.A., and started saying "Good afternoon Ladies and Gentlemen, this is your captain speaking...". :)

The band did another "Meet & Greet", as well as a quick interview with Q magazine (a two-page live spread for the October issue). The Q photographer was taking loads of pictures of the concert. The guys from Q thought the concert was brilliant!

The fans of Helsinki went crazy tonight, singing along to every word of every song. We will be going to our hotel after the show (haven't even had the time to see it yet).
Purity was the support act. Tim Simenon DJed before and after Purity's set.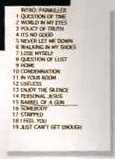 Set list
Sources