1998-09-16 Stadthalle, Vienna, Austria
From DM Live - the Depeche Mode live encyclopedia for the masses
Jump to navigation
Jump to search
Notes
Here is the diary entry by Jez Webb from Bong magazine issue #40:
Trouble for the trucks at the border, which means they don't arrive in Vienna until midday, but a good team effort makes everything ready to go by the time the doors are opened. This is Christian's hometown gig. Mr. & Mrs. Eigner and young Eigner's friends look very happy with son / chum's new band performance. The unveiling of his city centre statue is expected soon. During the show "Projectorhead", the video operator, is standing by to get European football scores from his girlfriend via mobile phone. Martin is all grins as the Gunners take the lead against Lens and we are all cheering by the time Man Utd squander a two goal lead to be drawn level by Barcelona.
And here is the diary entry by Jody:
Well we are now firmly ensconced in Berlin after a hair raising ride to the airport. We had to get there by midnight after the amazing (is there any other type with this band?) gig otherwise our plane would not be allowed to take off. Anyhow we lost the convoy so our driver proceeded to drive faster than the speed of sound only (and probably inevitably) to get stopped by the police who gave us a speeding ticket (happens all the time apparently).

Anyhow then we continued to speed along the autobahn (despite the ticket) and then got to the airport in time for the electronic gate onto the runway to start shutting. Our driver decided that he would make this and proceeded to put his foot down even more (it was going through the floor at this point) to try and get us through the gate before it closed completely.

To cut a long story short we were definitely not going to make it, but our driver did not realise this until we were at the gate whereupon he slammed on the breaks and we were nearly catapulted to the plane.

Great journey.

Going out for dinner tonight to a local restaurant - meant to be quite an experience.
Purity was the support act. Tim Simenon DJed before and after Purity's set.
Video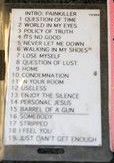 Set list
Sources