1998-09-29 Wembley Arena, London, England, UK
From DM Live - the Depeche Mode live encyclopedia for the masses
Jump to navigation
Jump to search
Notes
Here is the diary entry by Jez Webb from Bong magazine issue #40:
The band's homecoming, a couple of sell out shows and a wide range of "stars" in the crowd. Top footballer Gary Lineker, Madness' frontman Suggs and the highly acclaimed author of "A Brief History Of Time" Prof. Stephen Hawking and family, to name but a few! After the first show the band threw a party for close friends, crew and a few familiar faces that have worked for the band on previous tours. Entertainment was provided by 'Peter and Lee'. A duo made up of Martin singing and Peter giving piano accompaniment. By the end of the evening several people were getting up and giving it their best and some their worse. An impromptu song and dance routine by Dave of "Singing In The Rain" earned a standing ovation.
And here is the diary entry by Jody:
Wembley was great (both nights) and many famous people came to see the band's performance including Stephen Hawking! The shows were both a sell out and the audience sang along to all the songs. Dave was on great form and sounding fantastic.
Alan Wilder interview Stephen Hawking for his site in 2000, and asked Stephen about his attendance:
"It was a great concert, they had real energy. I don't think many people would have expected to see me there but I'm very glad I went, even though I was sitting just in front of the speakers and my ears were ringing for the next 24 hours."
Purity was the support act. Tim Simenon DJed before and after Purity's set.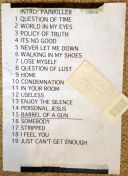 Set list
Sources