1998-11-05 SkyDome, Toronto, ON, Canada/Source 2
From DM Live - the Depeche Mode live encyclopedia for the masses
Jump to navigation
Jump to search
Notes
A good audience recording considering this was recorded on cassettes. Bass is a bit distorted depending on the song. There are small dropouts occasionally. "Painkiller" is missing entirely, and A Question Of Time is missing the first three-quarters of the song. Home and Stripped are missing the very last second or two due to tape flips.
Thanks to bobcat for sending me these master cassettes for transfer. My sincerest apologies to him for how long it's taken to get them transferred and shared.
Listen
You can listen to this entire recording below.
Track list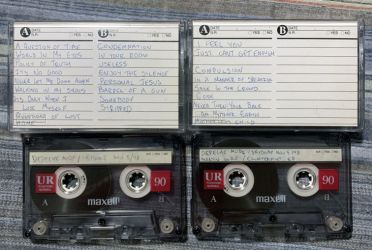 Lineage
likely a Panasonic tape recorder with built-in microphones -> 2x Maxell UR 90 type I cassette tapes -> Nakamichi MR-1 professional discrete head cassette deck (pitch and playback azimuth adjusted to match these tapes) -> Mogami 2534 XLR to TRS cables -> Focusrite Scarlett 2i2 3rd gen USB audio interface -> WAV (32/88.2) -> in Audacity: normalized to -0.1dB and any DC offset removed, track splits -> WAV (32/88.2) -> downsampled to FLAC level 8 (16/44) using foobar2000 v1.5.5, FLAC 1.3.3 64-bit, and foobar2000's Resampler (SoX) component v0.8.3 (best quality), dithering enabled
Taper: Stu
Transfer: DMLiveWiki
Cassette photos auCDtectTaskManager log included
Download