1998-11-13 Miami Arena, Miami, FL, USA/Source 2
From DM Live - the Depeche Mode live encyclopedia for the masses
Jump to navigation
Jump to search
Notes
A good right-shot audience video recording, previously uncirculated. Video is fairly stable and clear throughout. Audio is quite good as well, and there aren't too many loud people around the taper. There is a slight amount of distortion and some light background clicks that can be heard throughout the video, but it is not too distracting. I had to paste the left channel over the right for the ending of Walking In My Shoes through a couple minutes in to Only When I Lose Myself because the right channel was damaged and had many dropouts. I masked the video overscan edges so they would not be distracting. Otherwise, I left the video and audio as-is.
Painkiller is missing the first few seconds and "Just Can't Get Enough" is missing entirely, and there are a few small cuts when the camera is moved around significantly, but otherwise this seems to be a complete recording.
Many thanks to Kevin Fitzgibbons for taping the concert and lending me his Video8 master to transfer on a high-end setup.
Watch
You can watch this entire recording below.
Track list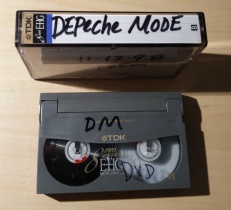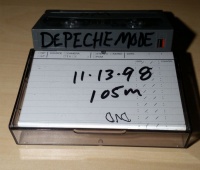 Screenshots
Specifications
Video specifications: H.264 High Profile, 628x468 29.97FPS
Audio specifications: WAV PCM 16-bit 48kHz
Lineage
probably a Sony CCD-TR7 camcorder using built-in mics -> master TDK E-HG 120 8mm tape -> Sony CCD-TRV99 Hi8 camcorder, built-in line time base corrector and digital noise reduction enabled -> S-Video -> DataVideo TBC-1000 frame time base corrector -> S-Video -> ATI Radeon 9600XT All-In-Wonder capture card -> VirtualDub (640x480 HuffYUV lossless capture, 16-bit 48khz LPCM audio capture via stereo RCA cable connected directly to computer's Creative SoundBlaster X-Fi sound card line in) -> AVI container -> repaired dropped right channel audio using left channel where necessary, mic bumps hard-limited, loud pops and clicks auto-healed in Adobe Audition CC 2015 -> overscan edges masked from video and repaired audio muxed in using VirtualDub 1.10.4 64-bit -> video encoded as H.264 (Handbrake), high profile -> muxed to MKV using MKVToolNix GUI v9.0.1 64-bit and chapters added
Transfer: DMLiveWiki
Generation: master
Taper: Kevin Fitzgibbons
Photos of 8mm cassette included
Download