1998-12-22 Arrowhead Pond, Anaheim, CA, USA
From DM Live - the Depeche Mode live encyclopedia for the masses
Jump to navigation
Jump to search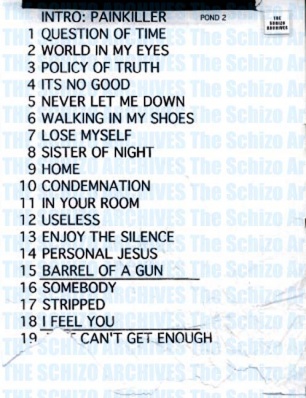 Notes
The last concert of the 1998 The Singles Tour. Andy speaks for a minute before Just Can't Get Enough. According to Billboard, this concert was sold out (13,182 people) and had a gross of $489,263.
Here is the diary entry by "BRAT":
The final show! I ended up missing the first song, because I was waiting for Jody to throw me in the sound pit area (my home for the night). When there, I enjoyed a great performance, with a few surprises. During Never Let Me Down Again, in the middle breakdown bit, Peter Gordeno slipped in a few bars of "God Rest Ye Merry Gentlemen" (I only heard it when I played the tape back - I didn't catch it live). At the beginning of "Enjoy The Silence", David said "Merry Christmas, by the way", and during Personal Jesus, Chris from Stabbing Westward joined Janet and Jordan onstage (complete with feather boa) to sing backup vocals. The final treat happened before the second encore ("Just Can't Get Enough"). Fletch came to the microphone, and said:

"Thanks, ladies and gentlemen. (You've) been a great audience. We've enjoyed ourselves in Southern California. This has been one of the happiest tours for Depeche Mode for a long time, and there is a small chance we might be back. I'd like to thank the band. Christian Eigner on drums, Peter Gordeno, Janet and Jordan, and Mr. Andrew Philpott, who put together all the programming for the tour. The unsung hero. He likes to think he is, anyway. So, anyway, I'll pass you over to the real star of the show...me! (band laughter) Over to Dave."

After the show I went backstage. This time, I brought a six-pack of table football balls (at the first Pond show, someone had stolen the ball). I came to play! Sure enough, myself, my friend Chad, and two other backstage people joined up for a quick game (we won). After we finished, Martin walked over. He (and Chris from Stabbing Westward) kicked the asses of the guys we had just played (it should be noted that Martin chose to play with a yellow golf ball, instead of a standard table football ball).

After witnessing "the man" in action (Martin), there was no way I was going to play against him. Instead, Martin and Chris teamed up against Peter Gordeno and Christian Eigner for a final grudge match (again, using the golf ball - go figure). The game must have lasted at least ten minutes! It was very obvious that these four men have played this game a LOT during this tour. Best moments were when Martin was missing a few of his shots. It's very unusual to hear Martin Gore scream "Oh come on!", and watch him jump up and down. Damn cool though. ;) It should also be noted that Christian is a damn good goalie (he was blocking a lot of Martin's shots).

Another interruption for Martin was when his daughter walked over (very cute little girl), and start tugging on his shirt, and hugging his leg, while he was playing. Even with this handicap, Martin and Chris did win (even going so far as to do a jumping high five at the end of the game).

A great end to a cool show. The next day, the band and crew left for Christmas at home. Happy holidays to all!
Set list
Sources
Source 1 is ISWIWDead's good master audience recording.