2013-07-16 Antic Arena, Nimes, France
From DM Live - the Depeche Mode live encyclopedia for the masses
Jump to navigation
Jump to search
| | |
| --- | --- |
| | This concert page is missing a ticket stub. If you possess a ticket stub from this concert and wish to contribute a high quality scan or photograph, please feel free to add your ticket stub as an image file and embed it within this article, or contact us. |
Notes
Martin's songs were changed from the planned set list; Shake The Disease was played in place of "Higher Love", and Judas in Shake The Disease's original slot. This is reportedly due to Christian Eigner having been stung by a wasp and needing to receive medical attention, so he was not able to drum during 'Higher Love'.
Chvrches was the support act.
Depeche Mode were staying at Hôtel Jardins Secrets, and Neil Young was due to perform at the Arènes de Nîmes the next day. Dave Gahan told TheInterviewPeople.com:
"I actually read Neil Young's book recently, 'Waging Heavy Peace', which was one of the books I read on the last tour I did with my band. And I thoroughly enjoyed that book so much. In fact, so much so that we were staying in some hotel - I believe somewhere in France - and Neil Young and his team were coming into the hotel a few days after us. And I wrote in the guest book a little note saying: "thank you for the book." I hope he read it." [chuckles]
Video
Set list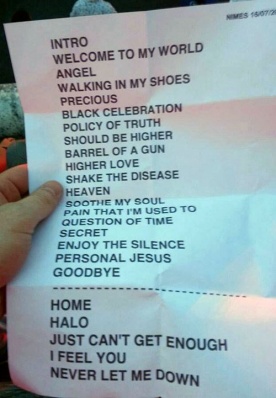 Intro
Judas (*)
Home (*)
Set list info obtained from the Home forum.