2013-09-24 Santa Barbara Bowl, Santa Barbara, CA, USA
From DM Live - the Depeche Mode live encyclopedia for the masses
Jump to navigation
Jump to search
Notes
This was the first of several concerts that were cut short due to Dave's cold. As seen from the setlist sheet, the shorter setlist was not intentional. According to Billboard, the attendance was 4,949 people and the gross sale was $447,217.
Crystal Castles was the support act.
Set list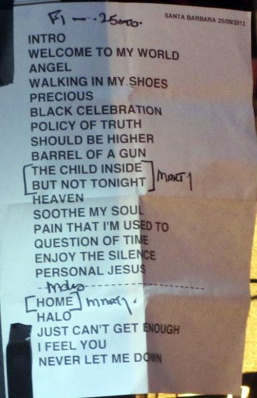 Intro
The Child Inside (*)
But Not Tonight (*)
Home (*)
Set list info obtained from the Home forum.