2013-10-11 Austin City Limits Festival, Austin, TX, USA
From DM Live - the Depeche Mode live encyclopedia for the masses
Jump to navigation
Jump to search
Notes
Depeche Mode's fourth webcast festival gig of the 2013 - 2014 Delta Machine Tour. This webcast has superb video and audio quality. The stream started late, during the last quarter of Welcome To My World, and so the first three-quarters of the song are missing. There is audible spillover of other bands' performances that night at the end of some songs, most noticeably after the end of But Not Tonight, but otherwise the audio quality is excellent, by far the best of the webcast festival concerts.
The often jarring video effects can be explained by the fact that this webstream is a broadcast of the giant screen feed used by the band. This may also explain why Welcome To My World is incomplete, because the giant feed screen may begin displaying at that point in the song.
Vince Clarke was coincidentally scheduled to DJ at The Belmont in the same city later that night, so Andy Fletcher and Martin Gore (as well as Roger O'Donnell from The Cure) went to his DJ performance.
Listen
The webstream's entire sound track is below for your listening enjoyment. You can also listen to individual tracks below. This is the original AAC audio demuxed from the 1080p webstream, so this is the highest quality you will find anywhere. This audio has not been re-encoded from the original stream. You can download this audio, split into tracks for convenience, at Source 1.
Set list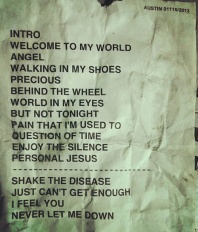 Set list info obtained from the Home forum.
Sources