2013-11-11 Hydro Arena, Glasgow, Scotland, UK
From DM Live - the Depeche Mode live encyclopedia for the masses
Jump to navigation
Jump to search
Notes
Liam Gallagher of Oasis was at this gig, and tweeted the next day: "Dave Gahan LEGEND. LG x". According to Billboard, the attendance was 8,739 people and the gross sale was $564,206. The Jezabels were the support act.
Scottish band Mogwai was in attendance, and so was the band CHVRCHES who supported DM in summer 2013. Martin Doherty of CHVRCHES said:
"We met them in Glasgow recently and they were exactly how I hope they would be. It's interesting even just to talk to them and not specifically advice. I feel like we learned a lot from them. That was more fun the whole observational point of view – like watching them on stage – and the most interesting thing being how these songs are not typically stadium rock songs translate to people at stadium level, how they capture the crowd. Yeah, we learned lots from them."
Set list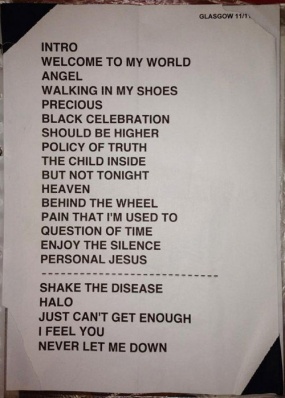 Intro
The Child Inside (*)
But Not Tonight (*)
Set list info obtained from the Home forum.