2013-11-13 Leeds Arena, Leeds, England, UK
From DM Live - the Depeche Mode live encyclopedia for the masses
Jump to navigation
Jump to search
Notes
While waving goodbye at the end of the gig, Peter Gordeno offers Fletch his hand to walk offstage together, and Fletch takes up on it, but he forgets to look ahead and falls over some wires. According to Billboard, the attendance was 7,565 people and the gross sale was $523,669.
The Jezabels were the support act.
Video
Set list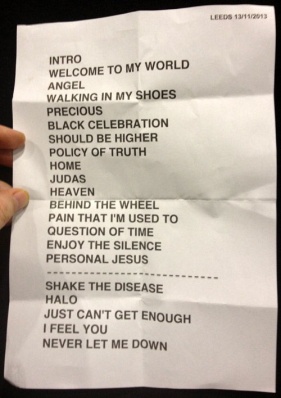 Intro
Home (*)
Judas (*)
Set list info obtained from the Home forum.
Sources