2014-02-22 Unipol Arena, Bologna, Italy
From DM Live - the Depeche Mode live encyclopedia for the masses
Jump to navigation
Jump to search
Notes
According to Billboard, the attendance was 12.833 people.
In this interview with Martin Gore, he says:
Q: Is there a particular experience of you getting a gift from the fans?

Martin: It's funny you should say that! I think it was - where were we? maybe it was… I think it was Bologna on the last tour. And there was a huge group of fans outside the hotel. And I was looking into our fans: one girl just thrusts this ring, and she says, "It's carbon fiber! It's carbon fiber!" And, I love this ring. It's a really cool ring. And then when I got married I tried to find something very similar, but this one is not as good! (laughs) They both are carbon fiber, but [the wedding ring] is very plain.
Choir Of Young Believers was the support act.
Set list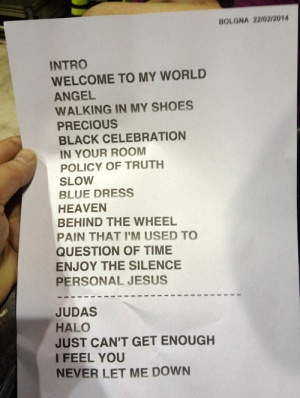 Intro
Slow (*)
Blue Dress (*)
Judas (*)
Set list info obtained from the Home forum.