2017-03-06 Avatar Studios, New York, NY, USA
From DM Live - the Depeche Mode live encyclopedia for the masses
Jump to navigation
Jump to search
| | |
| --- | --- |
| | This concert page is missing a ticket stub. If you possess a ticket stub from this concert and wish to contribute a high quality scan or photograph, please feel free to add your ticket stub as an image file and embed it within this article, or contact us. |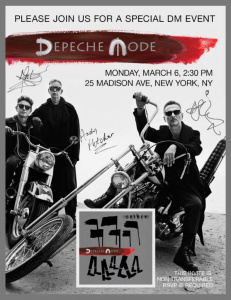 Notes
Depeche Mode performed two short rehearsal sets for fans and journalists at Avatar Studios in New York City. This was the first time Corrupt was performed live. In Your Room was the album version and not the "Zephyr Mix" (single version). World In My Eyes had a new intro. At the end of Barrel Of A Gun, Dave Gahan rapped the lyric 'Don't push me, 'cause I'm close to the edge / I'm trying not to lose my head' from Grandmaster Flash & The Furious Five's song 'The Message'. All songs were sung by Dave.
On March 6th, 15 Depeche Mode fans suddenly reported on social media that they had just attended an unannounced rehearsal by Depeche Mode. They revealed that 20 fans who had signed up for the American tour 'Strobe' ticket pre-sale via Facebook had received an email from Sony Music on March 2nd. Sony had selected them based on their location [NYC] and asked them to arrive (along with a friend) at Sony Music's building on March 6th for a special Depeche Mode event, without specifying any further info. The group of 30 to 40 people waited at Sony Music's building and had to sign a contract and turn in their phones, and then had to hop on a bus which would drive to an unspecified location. That location was Avatar Studios, where Depeche Mode have been rehearsing the past few weeks. During the rehearsal, Depeche Mode would discuss the songs with the fans, and chit-chat. A photo and camera crew recorded the bus drive and the entire rehearsal which will appear on Depeche Mode's social media accounts, but it is not sure if all photo and video material will be made public or just a selection of it. HOME moderator Sean Salo attended the event and wrote an extensive report on it, which you can read here.
Then in the evening, when the fans had hopped on the bus again, Depeche Mode did a second rehearsal for journalists. Three journalists who have revealed to have attended it are The Sun's Jacqui Swift, Daily Telegraph's Neil McCormick, and Rolling Stone USA's Kory Grow. Grow tweeted that they played "mostly classics (Everything Counts, Enjoy the Silence, Personal Jesus, etc.)", as well as "a brilliant cover of Bowie's Heroes with electronic drums and Martin playing guitar." Unfortunately there is not more info on this second rehearsal.
Set list for the fans
Set list for the journalists (incomplete and not in chronological order)