1987-10-29 Palasport, Turin, Italy/Source 2
From DM Live - the Depeche Mode live encyclopedia for the masses
Jump to navigation
Jump to search
Notes
A good sounding audience recording. There is some moderate hiss, some slight wow & flutter, occasional small dropouts, and thankfully very little distortion. The recording gets clearer a couple minutes in to Behind The Wheel; the taper was probably concealing his taping gear until then. The B-side of the tape (Shake The Disease forward) is clearer with better high-frequency response. The crowd around the taper is loud and enthusiastic, but it's usually quiet enough during songs to not be a bother.
About half of Pimpf is missing. Due to tape flip, the very end of Black Celebration and the beginning of Shake The Disease is missing. The very beginning and end of Everything Counts is also missing.
Note that an extended version of People Are People was performed, adding an extended middle break. This version was performed for the first seven concerts of the tour up until the next night's concert on 1987-10-30 Milan, after which the "regular" shorter version is played for the entire tour, with one exception. This extended version is played only once more the second of three nights in Paris on 1987-11-17.
Revision A notes: The prior transfer of this tape performed on the Nakamichi Cassette Deck One was affected with speed fluctuations on other at least one other transfer done on the same deck, so this tape was re-transferred on a different deck out of an abundance of caution. DM Live no longer has that particular deck.
DM Live purchased this master cassette on eBay along with two other Fabio B. DM masters (1984-03-06 Milan and 1984-11-28 Milan). This recording was previously uncirculated. Thanks to Vince for his assistance.
Listen
You can listen to this entire recording below.
Track list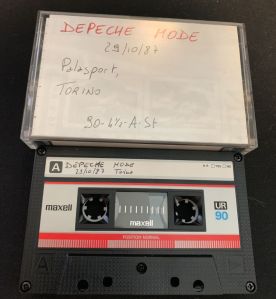 Lineage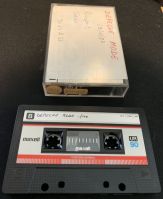 Incomplete audience recording
unknown recording equipment -> Maxell UR90 master cassette -> Nakamichi MR-1 professional discrete head cassette deck (playback azimuth adjusted) -> Mogami 2534 XLR to TRS cables -> Focusrite Scarlett 2i2 3rd gen USB audio interface -> WAV (32/88.2) -> Audacity 3.0.0 (WASAPI audio capture at 32-bit / 88.2kHz, normalization to -0.1dB and any DC offset removed) -> WAV (24/88.2) -> downsampled to FLAC level 8 (16/44) using foobar2000 v1.6.4, FLAC 1.3.3 64-bit, and foobar2000's Resampler (SoX) component v0.8.3 (best quality), dithering enabled
Taper: Fabio B.
Generation: Master
Cassette photos and auCDtectTaskManager log included
Download