1990-10-22 Palais Omnisports de Paris-Bercy, Paris, France/Source 1
From DM Live - the Depeche Mode live encyclopedia for the masses
Jump to navigation
Jump to search
Notes
A very good audience recording, significantly higher fidelity than prior available versions. Treble can be a little shrill on some songs, and bass is a bit lacking in general, but you can adjust these to your liking with your equalizer. This source is labeled as a first-generation copy.
Stripped is missing the beginning note - this is the case across all available versions of this recording, so it was probably not recorded due to the taper doing a tape flip. Black Celebration had some sound quality issues in the right channel of this tape copy which Dolby C magnified, so the song was transferred again without Dolby C and now sounds significantly less damaged at the cost of mildly increased hiss and slightly more shrill treble. Also, Black Celebration is missing the last couple seconds of the outro on this tape copy, the words "... period of rejoicing". An attempt was made to patch this using a significantly higher generation version of this recording, but the quality difference is too great and it was decided to skip this optional patch.
Many thanks to the taper "Laurent A.", "subwave collection CH" for acquiring these tapes long ago, and to Vince for his assistance with securing these tapes.
Listen
You can listen to this entire recording below.
Track list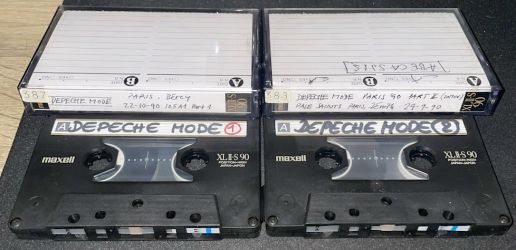 Lineage
Sony ECM-909 microphone + Sony WM-D6 recorder -> master tape(s) -> 2x Maxell XL II-S 90 high position cassettes, 1988 - 1989 stock, recorded with Dolby C -> Nakamichi MR-1 professional discrete head cassette deck (Dolby C engaged, pitch and playback azimuth optimized) -> "Worlds Best Cables" 6-foot Mogami 2534 cables with Neutrik XLR and TRS plugs -> Focusrite Scarlett 2i2 3rd gen USB audio interface -> recorded at 32-bit 88.2kHz in Audacity 3.3.2 using WASAPI input -> in Audacity 3.3.2: level adjustments, normalized to -0.1dB and any DC offset removed, track splits -> WAV (24/88.2) tracks -> downsampled to FLAC level 8 (16/44) using foobar2000 v2.0, FLAC 1.4.2 64-bit, and foobar2000's Resampler (RetroArch) component at "Highest" quality, dithering enabled
Taper: Laurent A.
Generation: first
Transfer: DMLiveWiki on May 29, 2023
Cassette tapes photo, tape inlay scans, and auCDtectTaskManager log included
Download