2009-07-24 Molson Amphitheatre, Toronto, ON, Canada
From DM Live - the Depeche Mode live encyclopedia for the masses
Jump to navigation
Jump to search
Notes
According to Billboard, it was sold out (16,128 people) and they grossed $891,358.
This was the only time that Fragile Tension was played live. According to Michael Lyons, Andy Fletcher's brother-in-law, two out of three band members wanted to stop performing 'Peace' for the remainder of the tour. They discussed replacing it with 'In Sympathy', but it seems that they did not follow through with this. They tried replacing it with Fragile Tension for this night but were not satisfied with it. So after this gig, they put Policy Of Truth (which was already being played every night) in its slot, and then put a rotating "Martin Gore solo" track in the remaining empty slot.
Dave makes a mistake during Fragile Tension: he sings "there's something magical in our genes", while the correct vocal "there's something mystical in our genes" is sang by Martin.
Here is the diary entry for Depeche Mode's official tour blog:
Hello, everyone!

The North American tour has begun. After a short break, and an unfortunate calf muscle tear, Dave has returned to full form and the band is ready to take on a new continent!

We played the Toronto Molson Amphitheatre and the Montreal Bell Centre. Despite the difference in language, the thousands of Canadian fans in attendance at both gigs had one thing in common: they rock and they love the Mode!

The new leg brought some exciting changes to the set list and judging from the crowd's reactions, it was well received.

Check out the new photos and live vicariously through our North American travels.

We're currently in D.C, the capital of the US, getting ready to play our first US gig tomorrow at the Nissan Pavilion. I wonder if Obama needs tickets?

See you in America!

author: MM
Peter Bjorn and John were the support act.
According to a 2008 tour list uploaded by PeterToo, this concert was initially planned to take place on 2009-09-05.
NOTE: This concert was officially released by Live Here Now and at one point sold on the official depechemodelive.com, which is currently defunct. Concerts with LHN releases generally do not have audience recordings widely circulating, and as such there may not be a recording available on this website for this concert.
Video
Set list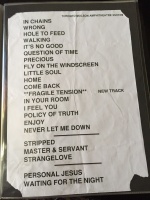 Set list info obtained from the Home forum.
Sources
Source 1 is a decent, but unfortunately lossy audience recording, probably captured from a YouTube playlist.