2009-11-30 Ahoy, Rotterdam, The Netherlands
From DM Live - the Depeche Mode live encyclopedia for the masses
Jump to navigation
Jump to search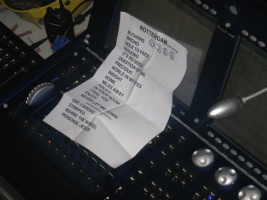 Notes
This concert was added to the tour dates list on June 12th.
Observation made by Angelinda: "After Martin had sung Home, some people started to do the guitar singalong, but it wouldn't really work, although Martin tried. Then Dave came on stage, and he hugged Martin. Then Martin said something to Dave in his ear, and Dave laughed and nodded. Then Dave took the mic and said: "Really? You really want to do this?" and then he told Peter to assist him with the singalong. Then Dave started to do this reggae thingy, and went "yay-ay" in reggae style. Then he looked at Martin and laughed, and pointed at him and said "You did it, you finally did it! Haha" So I guess Mart always wanted to do something in reggae style during a concert. Maybe it's a joke they make whenever they listen to all those reggae songs on Martin's iPod after the show?"
Here is the diary entry for Depeche Mode's official tour blog:
I arrived in Rotterdam around midday, and the stage was already up and almost finished.

There's an imminent skiing holiday arranged for the crew - just before the Zurich shows, and most people were getting excited about that, so there was a little bit of a "groundhog day" feel to the crews daily tasks today.

The last shows I saw were in Barcelona, and they are for now staying unbeaten, Rotterdam was a very solid performance, and the little tweaks being added here and there are making the performances really special.

Christian is having fun with Policy Of Truth, and tonight Dave asked Martin "do you really want to ?" - then DM did Reggae, it was just for a few seconds, but it was hilarious.

The crowd weren't the most enthusiastic I have seen, but most in the standing section were dancing - some of the seated sections took a while to find their feet - but they got there in the end.

The band are on a roll now, the performance was faultless, the chemistry between them is creating some fantastic shows.

I got to see "Insight" tonight, fantastic piano, and beautiful backing vocals from Mr Gordeno, and Martin Vocals just breathtaking, sadly "Fly on the Windscreen" is being "rested" - I hope it comes back in the future it was a highlight for me.

In the attached photos you will see Video Chief Rob Wick aka "Wicksy" who felt his appearance would lighten up dull pictures of the Stage and Cameras being set up ready for the show, so he's appearing in 3 of the pictures today!!

The next time I see the band will be in Dublin - which by all accounts should be a belter of a show!!

author: Big Pete
Soulsavers were the support act.
Video
Set list
Set list info obtained from the Home forum.
Sources
Source 1 is a decent audience recording.