2010-02-10 Łódź Arena, Łódź, Poland
From DM Live - the Depeche Mode live encyclopedia for the masses
Jump to navigation
Jump to search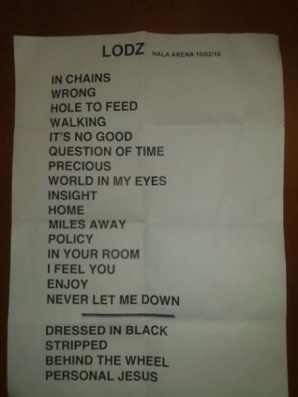 Notes
This concert was added to the tour dates list on August 1st 2009.
Here is the diary entry for Depeche Mode's official tour blog:
It's rather cold in Lodz, around -10 most of the time, so I didn't take in much of the city to be honest.

There is an incredible amount of snow around, and more on the way so they say.

The venue looks rather dull from the outside, but is very impressive inside. Everything went well for the crew and it was all set up on time.

Outside there were a few hundred fans suffering the freezing temperatures, I ventured out a few times and couldn't wait to get back in the warm so I could feel my ears again.

Inside the arena we had Nitzer Ebb practicing their football skills, and most of the depeche crew were now relishing in the thought of a nice lazy morning as their stuff was all set up for the "double nighter" - the poor guys have just had to endure a 20 hour drive in the snow so they more than deserve a little rest.

I spoke to a few of the crew and was told that the last few shows had been really great, amazing crowds, so i was hoping for a good one.

Once the doors opened it started "de-peche mode de-peche mode" relentlessly from the first 15 rows - they were a very vocal crowd.

The band came on shortly after 9pm, and it was great, but after 3 or 4 tracks it went up a gear, the crowd were the best i have seen, they started singing "Master and Servant" at the band, then martin challenged them to sing the verses they did a very good job - most impressive.

The "Home" jam was a good one, Dave said it sounded like "Nitzer Ebb" - Dave even sang "Left Right Left" from "Once You Say" at the end of it - which caused much amusement to the Ebb guys who were watching from the side of the stage.

Now - the Balloons for "Policy of Truth" - I mentioned that you guys should bring more balloons, it seemed that only Lodz understood this, because there must have been just short of 1000 balloons floating around - and it was an amazing site, and was a talking point later, so well done to all of you for that !!

Dave was screaming more than i have heard before, he interacted with the audience more than i have seen before and kept smiling and pointing at fans.

I don't know why the fans chose "Master and Servant" as their chant, but it kept happening, and martin even played a little of it on his keyboard before "stripped".

It really was a perfect gig, and I can't wait for tomorrow.

author: big pete
Nitzer Ebb was the support act.
Set list
Set list info obtained from the Home forum.
Sources
Ticket