2017-03-21 Studios Rive Gauche, RTL2, Paris, France
From DM Live - the Depeche Mode live encyclopedia for the masses
Jump to navigation
Jump to search
A private, invitation-only concert at RTL2 in Paris, France was announced on January 21, 2017.[1]
There was also a performance of Where's The Revolution and an interview with French TV channel TMC's "Quotidien" at 19:20 CET. This was also done at Studios Rive Gauche. There were only 120 audience members present, mainly Depeche Mode fans who had won a contest.
At 21:15 CET:
TMC (French) television, Quotidien, 00:30 CET:
Set list (TMC French TV "Quotidien", broadcast 19:20 CET)
You can listen to the interview here, and watch "Where's The Revolution" here.
History
Interview
Set list (concert)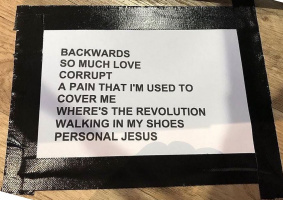 Sources
Source 1 is a capture of RTL2's Internet radio stream of the concert.
References