2017-07-06 BBK Live Festival, Bilbao, Spain
From DM Live - the Depeche Mode live encyclopedia for the masses
Jump to navigation
Jump to search
Notes
Unlike Depeche Mode's previous performance at the BBK Festival in 2013, this performance was not streamed on the web unfortunately.
Rufus T Firefly, Cage The Elephant played on the same stage before DM, and Justice played afterwards.
The Killers performed at this festival the next day, and they told Yahoo! Music afterwards:
Brandon Flowers: "We saw Depeche Mode in Spain and they were so good. When you look at what they sounded like for the first few records and how they evolved and then after Violator brought in live drums, which you never would have thought would be a thing with Depeche Mode, and now they've become this whole other thing. Martin [Gore's] got a guitar the whole gig, and there's a live drummer. And Dave [Gahan is] just on fire. That was inspirational for us, because they've been doing it since '80."

Ronnie Vannucci: "When I was in junior high school, it wasn't cool to like Depeche Mode, but they were my favorite band. I permed my f***ing hair because of Martin Gore. [I told Martin Gore about that and he] had a nice little chuckle over it."
Set list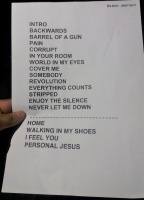 Set list info obtained from the Home forum.